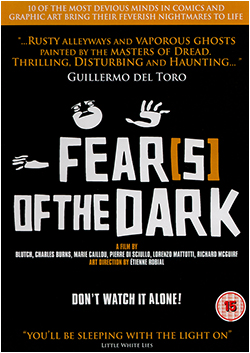 Fear(s) of the Dark (French title: Peur(s) du noir) is a 2007 animated anthology with one-shot stories, all made in black & white. The recurring theme in all episodes are primarily fear, whether it is for real or imagined things. Several prominent illustrators have contributed with their work for this release.
Charles Burns (known for his graphic novel Black Hole) provides the story of a shy man who ends up becoming prey for a very attractive woman, who proves to be something completely different than what she pretends to be. Jerry Kramsky and Lorenzo Mattotti's episode is a mystery-fueled story about people going missing in the nearby swamps. Blutch has an episode that is split up in parts and shown throughout the movie, where a man walks his bloodthirsty dogs, which in every segment attack people who are unfortunate enough to be in their way. Marie Caillou and Romain Slocombe lets their episode play out in Japan, where you're told the story of 11-year old Sumako who keeps waking up in a mental institution, gets a shot by some doctor and quickly falls asleep again, where she keeps dreaming about her past. Richard McGuire and Michel Pirus provides an episode about a man seeking shelter in an abandoned house, and ends up becoming increasingly paranoid by the building's many sounds, and he also finds an old photo album from the previous owners which makes his imagination go wild. And at last, Pierre Di Sciullo has small contributions with abstract animations which deals with several human fears, phobias and prejudices.
As you can probably guess from the descriptions of the several segments, Fear(s) of the Dark is a very mixed experience, but in a good way. Each episode has a notably different style, but overall there's always a very effective use of shadows and angles which intensify the imminent feeling of fear and paranoia. The impact each episode will have on you will likely depend on your own personal fears and phobias. The story from Charles Burns, for example, of a young man's first experience with love and lust which ends up evolving into obsession and horror, is both creepy and weird with some rather bizarre elements. Personally I found the segment by Richard McGuire and Michel Pirus to be most impactful for me, where you follow the man who seeks shelter in the abandoned house and can almost feel the fear and paranoia he feels while wandering the house's dark rooms, feeling that he's not alone.
Overall, all the episodes are well made and makes for a very interesting watch, and a nice entry into animated horror.



Director: Blutch, Charles Burns, Marie Caillou, Pierre Di Sciullo, Lorenzo Mattotti, Richard McGuire
Writers: Blutch, Charles Burns, Pierre Di Sciullo, Jerry Kramski, Richard McGuire, Michel Pirus, Romain Slocombe
Original title: Peur(s) du noir
Country & year: France, 2007
Voice actors: Gil Alma, Aure Atika, François Creton, Guillaume Depardieu, Sarah-Laure Estragnat, Nicolas Feroumont, Nicole Garcia, Arthur H., Christian Hecq
IMDb: www.imdb.com/title/tt0792986/