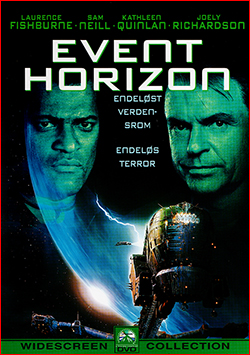 The year is 2047, and the rescue vessel Lewis and Clark is dispatched to investigate the distress signal from a starship called Event Horizon. This starship disappeared seven years ago, during its maiden voyage to Proxima Centauri, and now it has mysteriously appeared in a decaying orbit around Neptune. The eerie distress signal consists of a series of screams and howls, in which the Event Horizon's designer Dr. William Weir (Sam Neill) believes is the Latin phrase "Liberate me" ("save me"). When the crew of the rescue vessel, joined by Dr. Weir, enters the ship they find evidence of a massacre. They search for survivors, but then the ship's gravity drive activates and causes a shock wave which damages the rescue vessel. They are all then forced to stay on the Event Horizon, and soon begin having hallucinations which corresponds to their fears and trauma…
Event Horizon is a science fiction horror film from 1997, directed by Paul W. S. Anderson and written by Philip Eisner. The filming took place in Pinewood Studios, and Anderson modeled the starship after Notre Dame Cathedral using an architectural cam program. And oh boy, did this film have a troubled production, where the filming and editing was rushed by Paramount when it was revealed that Titanic would not meet its projected release. Not only did the movie suffer from being rushed, but to top it all people complained about the "extreme gore" during the test screenings, and it's claimed that some of the audience actually fainted. Even the Paramount executives were shocked by how "gruesome" it was, and demanded a shorter runtime with less gore, so apparently some of the best bits were cut away from the movie. The original 130-minute film was savagely edited on the studio's demand, much to Anderson's dismay.
It was both a commercial and critical flop, grossing only $42 million on its $60 million budget. In some way, the movie entered into its redeeming phase when it sold pretty well on home video, where the DVD release sold so well that Paramount actually contacted Anderson with wishes of beginning the restoration of the deleted footage. But, too late, because at this point it had been either lost or destroyed. So thanks a lot for that, you squeamish arseholes who demanded the movie to be cut during the test screenings. Had it not been for you, we'd have a much more disturbing and gory movie.
The movie can be best summed up as a haunted house-story set on a spaceship, which has quite literally been to Hell and back. Thus I guess some people were quick to label it as some kind of Alien meets Hellraiser, which isn't really the case. Just like the typical haunted house setting, the fears play mostly on the psychological at first, and we already know from the eerie and sinister surroundings that things are not as they should be, with strange things happening that spooks the crew. And let's face it: supernatural happenings in space is a lot more claustrophobic and threatening compared to happening in some old house. In a house, you can at least run outside…
The dark, empty hallways in the spaceship appear just as menacing and threatening as the hallways in an old mansion, and the visions the characters are seeing are suspenseful and effective. The performances are good, but best is Sam Neill's performance as Dr. Weir who slowly starts falling into madness and becoming absorbed by the gruesomeness the starship brought back with it. There are no aliens running amok here, just anxiety, paranoia, violence and gore. It's like the place it came from had been the very depths of Hell itself, which makes it very interesting when you keep in mind that the design of the ship was modelled after the Notre Dame Cathedral in Paris.
Over the years Event Horizon has developed a cult following as well, sometimes referenced in other works of popular culture. It is an effective horror film albeit not a masterpiece, and it sucks that some of its most disturbing content is lost. Overall, it's a decent 90s sci-fi horror which will probably forever hold the mystery of what those extra minutes of playtime could have been.


Director: Paul W.S. Anderson
Writer: Philip Eisner
Country & year: UK, US, 1997
Actors: Laurence Fishburne, Sam Neill, Kathleen Quinlan, Joely Richardson, Richard T. Jones, Jack Noseworthy, Jason Isaacs, Sean Pertwee, Peter Marinker, Holley Chant, Barclay Wright, Noah Huntley
IMDb: www.imdb.com/title/tt0119081/