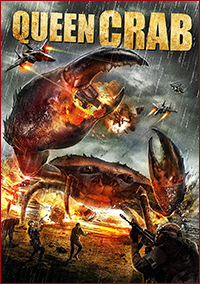 A young girl (Melissa) is playing nearby the pond close to her family's residence, and finds a cute little crab whom she names Pee-Wee (yeah, you could probably make some STD jokes here). She decides to keep it, and starts to feed it some of the weird fruit from her father's laboratory where he's experimenting on a formula to make things grow larger. Soon, Pee-Wee starts to grow much bigger (I'm talking about the crab, of course). After an accident that kills both of Melissa's parents, she lets Pee-Wee back into the pond and goes to live with her uncle, the town sheriff. Many years later, Melissa is still caring for her secret giant crab pet (who is, despite the name, actually a female). All is well until "Pee-Wee" gets some huge crab babies that start to cause trouble all over town…
Queen Crab aka Claws is a low budget ($75.000) creature feature with old-fashioned stop-motion effects, that can easily be considered a homage to the monster movies of the 50's and 60's. It's written and directed by Brett Piper, and while this movie was actually our first introduction to his work, the guy has been going at it since the 1980's. Some of his earlier work includes titles like The Nymphoid Barbarian in Dinosaur Hell, Drainiac, and Shock-O-Rama. Specializing in low-budget horror and monster flicks with old school effects, he's built himself quite the portfolio, and I expect that we at Horror Ghouls are likely to check out more of his movies.
Now, Queen Crab is definitely going for a "so bad it's good" feeling, but there is unfortunately a lot of scenes with little progression, and that makes the movie feel somewhat dragged out in places. The acting is a mix of bad/laughably bad, but that's most likely intended. I'd reckon that the customer base for movies like this are already familiar with low-budget indie horror films and their usual flaws, and if you belong to this group you're more likely to enjoy it for what it is. There's no denying that the stop-motion effects is the movie's main selling point, and combined with the bad/laughable acting and goofy premise, you're actually getting a rather decent indie monster film. Surprisingly, there's even a certain charm to it in regards to the "relationship" between Melissa and her giant monster crab.
Not a masterpiece by any standards, but if you're in for some campy "shut down your brain first" kind of fun with old-school effects, you'll most likely find yourself entertained!

Director: Brett Piper
Country & year: USA, 2019
Also known as: Claws
Actors: Michelle Simone Miller, Kathryn Metz, Richard Lounello, A.J. DeLucia, Steve Diasparra, Danielle Donahue, Ken Van Sant, Yolie Canales
IMDb: www.imdb.com/title/tt2319456/