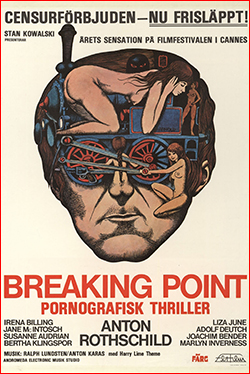 The Swedish filmmaker Bo Arne Vibenius got some sweet taste of success and fame after his ultra violent rape/revenge film and magnum opus Thriller: A Cruel Picture became a hit at the Cannes Film Festival in 1974. One year later it was time for his next film, which was originally supposed to be a far more clean and commercial film for the mainstream surface audiences.
But something went wrong, you see. Horribly wrong.
Some sources say that it was issues with the financial part that forced Vibenius to take some quick and drastic decisions. Instead of cancelling the film entirely, he rewrote the script in two days and started shooting on day three with a handheld camera around the Stockholm area. The result is Breaking Point – a spiteful, mean-spirited, bleak as bleak can be, anti-commercial, morbidly hilarious and utterly mentally deranged little sexploitation flick which makes Thriller look like a sunny day in Disneyland. All shot in English dialogue with Swedish subtitles, just in case the film wouldn't get banned in its home country, which it of course did. Hur tråkigt.
The film centers around a middle-aged man, Bob Bellings, who looks like a cross between Peter Sellers and Ryan Gosling, where anyone with eyesight can spot his big red flags waving miles away. He's a working stiff wearing a suit and tie at an office in a high rise building in the middle of the city, where his days consist of stamping documents. Another thing that's stiff is his cock, and he has to stick it in someone and rather NOW before his ballsack explodes! When he's not sitting around and fantasising about his female coworkers undressing in front of his desk or sucking his dick, he uses his free time to rape and murder women around the local area. When he can't control his urges at work, he has the lunchtime to "do some errands". The film starts with his first victim whom he stalks and assaults in her apartment. He smashes her skull with an ashtray and rapes her dead body.

If this wasn't bad enough, Belling then sees a psychologist on TV who has the brilliant theory that all women have a deep, inner desire to get raped, only if you don't kill them. Alrighty then. Now that his actions feel way more morally righteous (for lack of a better term), it's time to extend the horizon by buying a car and heading out to the countryside to hunt for more pussy to drill. His car plate has the letters CUW (yes, with a W) just to make it obvious in a sarcastic way that his psychotic journey into pure nihilistic perversion and beyond has just begun where no one on his destructive path is safe. All I can say is just get ready for a lot of absurdity, a lot of unpleasant hardcore fucking, oral sex, reckless driving and even some hints of – TRIGGER WARNING – pedophilia.
What Breaking Point and Thriller have in common is the authentic porn scenes. But this one goes overload, to put it that way. During Bob Belling's hazy and dream-like odyssey we can also ask what's real and if we're just witnessing some deep, obsessive rape fantasies from the mind of a disturbed man. Not quite easy to tell. We can also ask if the raw, impulsive and overall chaotic nature of Breaking Point is a reflection of a very troubled and angry director who's going through an epic storm of a mental collapse or a serious existential crisis while he goes all the way to self-sabotage his own film career. This was his last film, so in that case, he succeeded.
Andreas Bellis, who mainly works as a cinematographer, has his first and last main role as the killer/rapist Bob Bellings, here under the fitting pseudonym Anton Rotchild. With his thin hair, big glasses in front of his death-staring eyes, stone-cold face and of course the big mushroom for the ladies, he certainly looks the part which he seems to embrace every second with no problem, flashing his erect dick left and right and exposing himself in the explicit hardcore porn scenes. Even though the porn is as straight-forward as can be, the film is done with the most pitch-dark cynical sense of humor, with layers of satire and some social commentary where American Psycho meets Falling Dawn in a bushy glory hole. The ending is absolutely bonkers.
And speaking of pseudonyms: names such as Oscar Wilde, Adolf Deutch and Urban Hitler can be seen in the opening credit scene. Because why not …
Although Vibenius was confident enough to get Breaking Point screened at the Cannes Festival which turned out to be a complete disaster shitshow, he feels to this day very bitter about the film and wants no one to see it. Can I blame him? Maybe, maybe not. He went as far as to do his very best to erase the film entirely from its existence by stopping it from spreading on the bootleg market. So no, Breaking Point will never get a physical dick-release and is as obscure and rare like a snowball in hell. The only place to watch it online as for now is on the porn site spankbang. Have fun!



Director: Bo Arne Vibenius
Writers: Bo Arne Vibenius, Nat Sharp
Also known as: Breaking Point – En Pornografisk Thriller
Country & year: Sweden, 1975
Actors: Andreas Bellis, Barbara Scott, Jane McIntosch, Susanne Audrian, Bertha Klingspor, Marlyn Inverness, Liza June, Adolf Deutch, Joachim Bender
IMDb: www.imdb.com/title/tt0072736/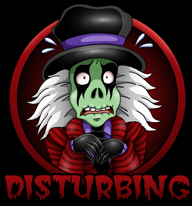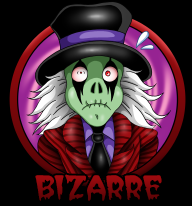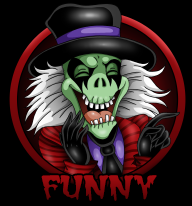 Breaking Point – Feature film from Vibenius on Vimeo.