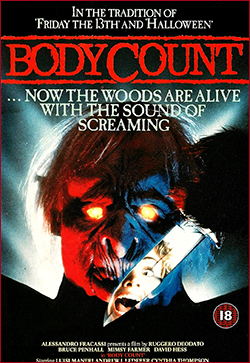 Hey, take a look at this: An 80s teen slasher made by the director of Cannibal Holocaust himself. Wow, you don't say… This has to be something else, right?
Well…
The plot could be summarized as the first drafts of  any Friday The 13th film synopsis: In Body Count we meet (surprise, surprise) a group of teenagers who's on their way to a campside to party and do stupid random shit. And guess what: a serial killer is on the loose who wears a ghoulish Halloween mask and body counts the teens one by one.
I wasn't expecting much when it came to the visuals, after watching the trailer. It's as trashy as it's looks with some really shoddy editing choices which I refuse to believe was done by a sober person. The killing scenes are lazy and not much to be excited about, and the acting is just laughable. I can especially mention one scene where one of the dudes finds his recently murdered girlfriend,  and reacts as if he was watching his favorite football team losing. Hilarious!
It's quite impressive that it took five screenwriters to come up with such an unoriginal plot and screenplay like this. Anyone with half a brain could make this on a long weekend, and not let the director's name fool you. Ruggero Deodato either made this as a quick, half-baked attempt to cash-in on the 80s slasher mainstream, or just for shits and giggles and a a big portion of ironic distance. Not easy to tell. The film's only strength is the simple, yet catchy soundtrack by Claudio Simonetti, with its distinctive 80s-electronic tunes.
I had a fun time watching Body Count, though, much thanks to the funny-bad acting and its sheer schlocky sillyness. It has enough so-bad-it's-good moments to pick apart while watching it, and I honestly got was I was hoping for. Nothing more, nothing less.
It's (as we speak) available on streaming at Filmrise, Tubi TV, Hoopla (and for us Norwegians) on Amazon Prime. The original title is Camping del terrore!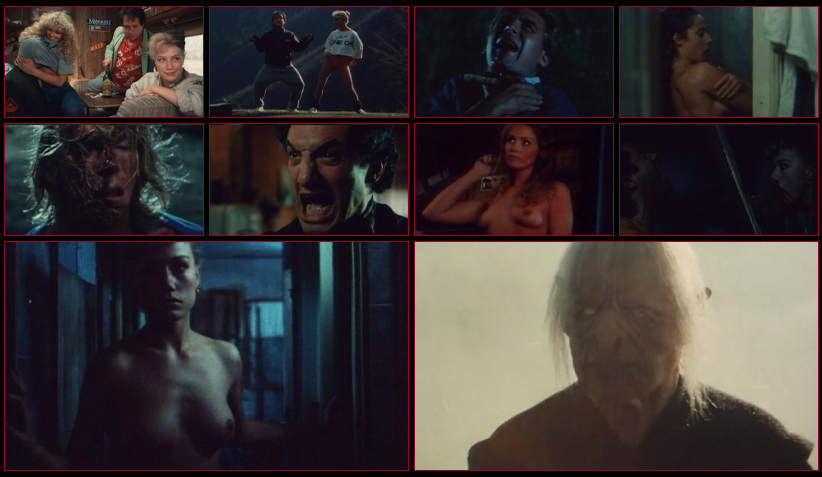 Director: Ruggero Deodato
Original title: Camping del terrore
Country & year: Italy, 1986
Actors: Bruce Penhall, Mimsy Farmer, David Hess, Luisa Maneri, Nicola Farron, Andrew J. Lederer, Stefano Madia, John Steiner, Nancy Brilli, Cynthia Thompson, Valentina Forte, Ivan Rassimov, Elena Pompei, Charles Napier, Sven Kruger, Lorenzo Grabau, Stefano Galantucci, Clelia Fradella, Fabio Vox
IMDb: www.imdb.com/title/tt0090788/