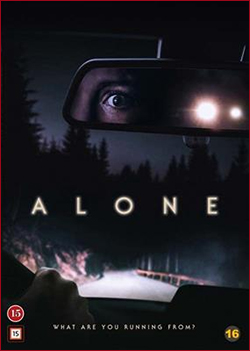 Jessica is a recently widowed woman, who has decided to move on with her life and start afresh. While traveling, she encounters a suspicious-looking guy multiple times. Hoping that it's all a coincidence, things become pretty evident when she crashes her car due to a slashed tire. The creep who has been stalking her manages to drug and kidnap her, and the cat 'n mouse game has started.
Alone is a thriller movie released in 2020, directed by John Hyams. It is a remake of a Swedish thriller called Gone (aka Försvunnen) from 2011, by Mattias Olsson and Henrik JP Åkesson. Mattias was also credited as writer for Alone, and Henrik as producer. I haven't seen the original, so I can make no comparisons in that regard, and the movie seems to be quite rare and hard to get a hold of. Still, the storyline seems to be pretty much the same.
At first, the movie builds up to be some kind of Duel-like movie, until it turns into a classic serial-killer hunting game. While there isn't anything truly shocking or groundbreaking to witness here, and it's obvious from the start who is hunted and who is the hunter, it's still keeping your attention from the get-go. It's somewhat predictable, but still suspenseful enough to keep you on the edge of the seat. The heroine, Jessica, is also not a character who is easily fooled, and she's smelling something fishy very early on. Despite this, the serial killer still gets her. Sometimes, it doesn't help if the mouse is aware that the cat is dangerous.
There's a lot of running through the forest and a good amount of action, and the actress, Jules Willcox, actually broke her foot while shooting one of the first action scenes. She finished the shoot while wearing a boot and with the help of a stunt, but naturally this delayed things with a few months as some scenes couldn't be finished until she was fully healed.
Like already mentioned, Alone doesn't bring anything new to the table, it is a straight-forward cat 'n mouse thriller where a woman tries to escape a serial killer. Yes, it's formulaic and doesn't reinvent the wheel, but it's still a thrilling ride. So overall, Alone is a simple thriller without any big twists and turns, but the suspense makes up for it and turns it into an enjoyable viewing experience.
WARNING: The trailer includes major spoilers. Watch at your own risk (if you haven't seen the movie and plan to do so, I recommend to avoid the trailer completely).

Director: John Hyamns
Country & year: USA, 2020
Actors: Jules Willcox, Marc Menchaca, Anthony Heald, Jonathan Rosenthal, Katie O'Grady, Betty Moyer, Shelly Lipkin, Emily Sahler, Laura Duyn, Brenton Montgomery, Nico Floresca
IMDb: www.imdb.com/title/tt7711170/