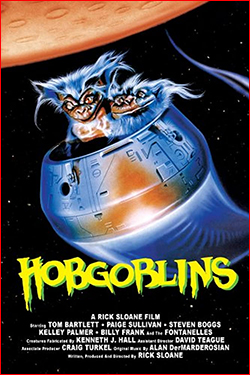 Writer, producer, editor and director Rick Sloane is a true independent auteur, no one can at least take that away from him. He's made 16 movies over the course of the decades since the early 80's, and we all should know about his Vice Academy films, a spoof of Police Academy which spawned five whole sequels. Yet he's known for one movie and one movie only: Hobgoblins – one of the most, if not the most, sour fart-smelling and cringe-inducing cheese fests from the 1980s that got its place on the Worst Films Ever Made list and became a cult-classic of so-bad-it's-good-movies.
The film starts in some old movie studio where the young nightguard, Dennis, have been strictly told by his older co-worker McCreedy to stay far away from the vault. Of course he won't. And when he enters it, he's suddenly on a stage in his own fantasy land where he's a rock star. Shortly after he grabs the mike and does some silly movements, and ends up getting killed, off screen. A new young guy gets hired with the same warnings to stay away from the vault. Pffft, yeah right. One night when he opens it, a group of fluffy Mogwai/Critter hybrid creatures escape from the vault and drive away in a golf cart.
To quote the back of the Blu-ray; as bodycounts starts to rise, Kevin, with help of his friends, decide to track down the deadly creatures before they wreak havok on the city.
There's only one (yes 1) bodycount in the entire film though, and that's the guy we saw in the beginning, and the film is as tame as a newborn kitten. We learn that the creatures came from space in the 1950s in a small shuttle that crashlanded near the movie studio where McCreedy was a nightguard. He has since then kept them trapped in the vault, since anyone who encounters them will have their fantasy wishes come true, only until they get killed by the creatures. And guess what: they also get attracted to very bright lights. Rick Sloane claims that he wrote the script for Hobgoblins several years before Gremlins, by the way, so don't you even dare to think otherwise.
There's no more plot to break down from here 'cause there isn't any. We have a string of nonsensical scenes where our group of protagonists keeps bullshitting around Kevin's house. We have some rivalry between Mike and some Rambo wannabe who fights with rakes, because…just because. Later that night, they have a party where the creatures finally stop by to get the plot going forward. We eventually end up in some sleazy nightclub where it just gets more crazy and weird.

Hobgoblins is a real stink bomb in every aspect with the production value of an episode of ALF. The direction, the acting, the story (if there is any), the characters, the pacing, the effects, everything falls completely on its face. The attempt to be a comedy is like … I can't even put a word on it. It's something else. Holy moly macaroni. Even though the actors are a group of young and fresh graduates from the prestigious Troll 2 School of Acting, Troll 2 is Citizen Kane compared to this one, and you have to lower your bar to the lowest to sit through Hobgoblins.
There are no effects here. No blood, nothing. The only kill we get happens offscreen because its budget of $15,000 obviously couldn't afford a single effect artist. What we have left is actors who do an impossible job to make us believe they are in danger while they wiggle around with lifeless puppets in the purest Ed Wood style. Picture Bela Lugosi with the octopus and there you have it. When we see the puppets moving around, they're being operated by a woman who has just been released from a mental hospital. No shame in that. Sometimes crazy people need a job too.
The film is also sprinkled with goofs, but the one who caught my eye was the sequence with the car during where a hand visibly rocks the stationary car, and you can see it as clear as day. Then we have the grenades of the Rambo-wannabe-dude which he throws around the nightclub that does zero damage. A grenade gets thrown in one direction but explodes in a completely different direction. Like Ed Wood famously said: Filmmaking is not about the tiny details. It's about the big picture.
Some trivia: The film was shot without permits and in a single week. The film studio was in a parking lot that was deserted at night, next to a crackhouse. McCreedy's gun was actually a cap pistol, purchased from a toy store for five dollars. Only the eyes for the hobgoblins were going to be seen in an earlier draft of the script. A pit bull's growl was used for the voice of the hobgoblins. Rick Sloane initially planned on making a sequel in 1990 and had even written a screenplay for it, but it wasn't made until 2009 as Hobgoblins 2.
Hobgoblins was also mocked by Mystery Science Theater 3000, an episode which Rick Sloane got shocked by when he himself was mercilessly mocked over the film's end credits. In an interview with Dead Central in 2009, he was asked about the movie's position on the IMDb Bottom 100. He said he was "surprised it slipped down to #25 as it at sometime was the 2nd spot, right behind Gigli. As for now, it's on #35. It's also on a Blu-ray/DVD Combo Pack from Vinegar Syndrome.



Writer and director: Rick Sloane
Country & year: US, 1988
Actors: Tom Bartlett, Paige Sullivan, Steven Boggs, Kelley Palmer, Billy Frank, Tamara Clatterbuck, Duane Whitaker, James R. Sweeney, Kevin Kildow, Daran Norris, James Mayberry
IMDb: www.imdb.com/title/tt0089280/