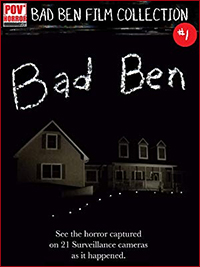 Tom Riley has just bought a house at a price that is way below market value. With intentions of "flipping" it (a term for buying a house and selling it later for a profit) he goes through the house while filming the entire process with his iPhone. After residing in the house for a short while, however, he notices strange happenings, and decides to set up a bunch of surveillance cameras both inside and outside. At first he's convinced that people are breaking into the house…but soon, he realizes that he might be dealing with something paranormal.
Bad Ben is an odd little horror film. With "found footage" horror movies being all over the place these days, it feels like everyone with a camera and some video-editing software can make their own addition to the genre. While the majority of these movies have a very limited cast and budget, they still manage to (sometimes) turn out as quite decent films. And it kind of feels like Nigel Bach once joined in a discussion about this topic, simply said "Hold my beer", and went and made a found-footage movie in his own home with himself being the only person involved. Yes, you read that right. This is a 1-man movie. Filmed with an iPhone and the rest consisting of security camera "footage", with a budget of only $300.
Now, an idea like this sounds like the perfect recipe for a disaster of a movie, which could only be appreciated by close friends and family. But to our surprise, we found that it's actually quite decently made for what it is. And since nearly every single found footage horror movie includes a cast with teens/young people, it was actually a bit refreshing to see a grumpy, middle-aged man who is more pissed off at the goings-on than afraid of it. The movie does have a tone of humor in it, and it manages to keep you captivated throughout the protagonist's exploration and experiences. It is also kinda fascinating and somewhat inspiring that the entire movie was made as a one-man-show, and part of the entertainment value comes from keeping this in mind.
Bad Ben is not a horror movie that will be appreciated by everyone, but for those of us that watch horror movies on a regular basis and has trudged through a ton of various indie horror, it's easy to see why Nigel Bach's Bad Ben found a fan base. Bad Ben has turned into a series of a total of 7 movies (so far).

Director: Nigel Bach
Country & year: USA , 2016
Actors: Nigel Bach
IMDb: www.imdb.com/title/tt6269810/