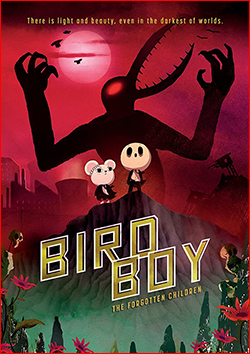 On an island inhabited by different talking animals, the building of a factory and its explosion caused the once thriving fishing community to become a devastated and barren place. Birdman, who once used to tend the island's lighthouse and now appears to be struggling providing for himself and his son Birdboy, becomes suspected of trafficking drugs, and is eventually shot dead. Instead of drugs, however, they find a satchel on him which contains golden acorns.
Birdboy, growing up without his father and living alone, desperately tries to fight his inner demons by taking drugs which he buys from a piglet who owns a fishing boat. Meanwhile, Dinky, a young mouse who is having some kind of romantic relationship with Birdboy finds herself struggling after her father's death, where her stepfather, a Christian fundamentalist, keeps controlling their family and constantly excoriate her for her so-called "misbehaviour". Together with Sandra the rabbit and Little Fox, they plan to get away from the island, but need money for their escape. They've heard stories about the older brother of someone who is said to have left the island and now lives a happy life, and they are determined to get away themselves. Dinky also wants to persuade Birdboy to come with them.
Birdboy: The Forgotten Children (Psiconautas, los niños olvidados) aka Psychonauts, The Forgotten Children is an adult animated horror-drama film from 2015, written and directed by Alberto Vázquez and Pedro Rivero. In 2016 it won the Best Animated Feature price at the Goya Awards. It is based on a comic called Psiconautas by Vázquez, and works as a follow-up to their short film called Birdboy. And despite this movie starring talking animals, don't expect for a second to find any kind of Looney Tunes vibes here, it's a nihilistic coming-of-age story which is gloomy as hell but at the same time gorgeous to watch. The characters, despite appearing a bit simple, are brought to life with detailed expressions. The dark and macabre elements including drugs, addiction, violence, depression, the darkness within us and a rotten corrupted society in complete denial are all embraced in a way that turns it into something dark and decayed yet not bereft of beauty. While we follow Birdboy's and Dinky's adventures somewhat separately, we soon realize that despite all of Birdboy's struggles, he's actually maintaining a little isolated spot in a grotto, where he plants golden acorns which makes the little place grow and thrive like in the old days.
There are also some partly surrealistic scenes with a weird (and annoying) talking robot-clock, a bleeding Jesus doll and the demons constantly attacking Birdboy which are obvious metaphors for his anxiety/depression/troubles, aka "inner demons" which he tries to suppress with drugs (and we all know that such a strategy never works in the long run). Birdboy and Dinky, while both struggling with their own problems, each come off different in their ways of handling things. Dinky sees escape as the only option, while Birdboy, despite all his troubles, manages to create a small place in his life for growth and solace. While the world the film represents appears to be without hope, there is a message both within (and at the end) which clearly states that running away from problems isn't the answer, and in order to attain happiness you can create and seek beauty from your current state. But, of course, Birdboy is pretty much the only character who manages this to some extent, as pretty much all the other characters are struggling with their own inner demons, fears and ailments (like the piglet, who has a bedridden mother struggling from addiction, which manifests itself as a talking spider, and Sandra the rabbit who keeps hearing voices inside her head, trying to force her to do terrible things). Vãzquez himself stated in an interview that the story itself is very much a metaphor about life, portraying the end of childhood as these kids have to face a new world. "The characters have to face a new world and they don't like the world. They have to rebuild it again — that's why the characters think about running away," Vázquez explains. "In life you can't run away that easily. And we have to come back to our island and fix it up a little bit." Rivero also commented on the film's dark themes, stating "I see life as just a mix — sometimes we have dark; sometimes we have light. Just because you work with darkness doesn't mean your life is dark. It's because these are themes that are interesting. It touches everybody. But it is not good to take it into your personal life."
Birdboy: The Forgotten Children is a passionately made and intellectually challenging "animation for grown-ups", with its beautifully animated nihilism giving an impactful visual and emotional experience.



Writers and directors: Pedro Rivero, Alberto Vázquez
Original title: Psiconautas, los niños olvidados
Country & year: Spain, Japan, 2015
Voice actors: Andrea Alzuri, Eba Ojanguren, Josu Cubero, Félix Arcarazo, Jorge Carrero, Nuria Marín, Josu Varela, Jon Goiri, Maribel Legarreta, Iker Diez, Juan Carlos Loriz, Kepa Cueto
IMDb: www.imdb.com/title/tt5004766/