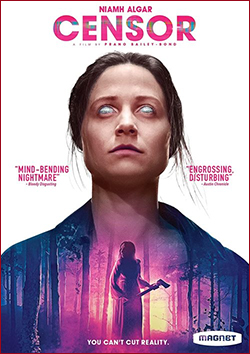 Enid works as a film censor, and her daily life includes watching some truly brutal and gory movies, choosing what is acceptable for the audience to handle and what should be banned completely. One day she views a movie that makes her believe she can finally solve the mystery of her sister's disappearance, and she embarks on a quest that blurs the line between what is real and what is not.
Censor is a slightly weird little horror movie set in the era of the Video Nasties. If you're not aware, a "Video Nasty" is a term for movies that were deemed too brutal and inappropriate for people to watch, by the National Viewers' and Listeners' Association (NVALA) in the United Kingdom. These movies were typically low-budget horror and exploitation films, often heavily criticized for being too violent and for "influencing" people to commit crimes. These days, most of us have (hopefully) realized that media, whether it be movies, games, music, books or comics, cannot be blamed for people's crimes…but back in those days, in what could probably be best described as some kind of moral panic, they literally thought that movies like this could cause an increase in crime.
The idea of a censor, watching tons of material that includes brutal and gruesome things, going bonkers him/herself in the end, is an idea that has already been wonderfully exploited in Sweden's Evil Ed. Censor isn't some kind of Evil Edna or anything like that, however…instead, it presents a surreal and creepy downwards spiraling experience of a woman whose trauma manifests and ultimately consumes her.
Visually, there's a lot of nice things to rest your eyes on during the film. Many scenes blends the surrealism with a great use of lighting and colors, making it vibrant and eerie at the same time. Enid's character is also well put together, coming off as a strong woman who doesn't even flinch at the grotesque scenes she is witnessing at her job, but instead makes calculated notes about what can be kept and what needs to go, might even be considered a little bit prudish. But the trauma of her sister's disappearance is always lurking underneath the surface, just waiting to break out into the open. And there is one film she watches that actually opens the crack, which is called Don't Go in the Church. Enid becomes convinced that one of the actresses is her missing sister, and she becomes hell-bent on finding her. What she really finds is true madness instead.
Censor is not a film for everyone, and if you expect another Evil Ed you will probably be disappointed. It is, however, a strangely bizarre and enthralling experience.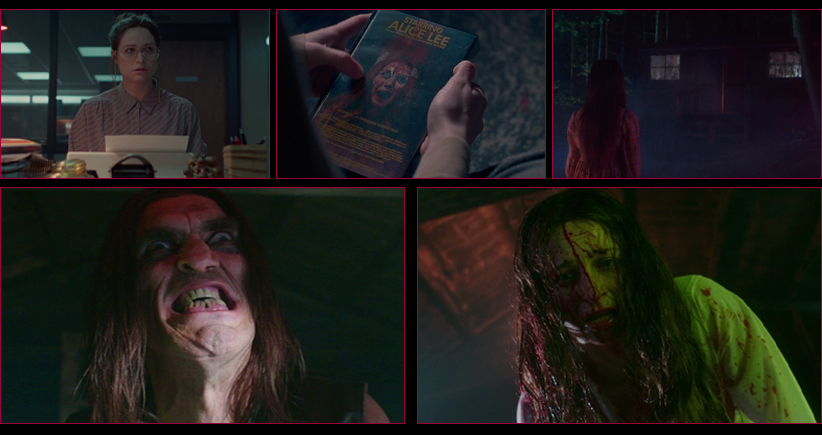 Director: Prano Bailey-Bond
Country & year: UK, 2021
Actors: Niamh Algar, Michael Smiley, Nicholas Burns, Vincent Franklin, Sophia La Porta, Sophia La Porta, Clare Holman, Andrew Havill, Felicity Montagu, Danny Lee Wynter, Clare Perkins, Guillaume Delaunay, Richard Glover, Erin Shanagher, Beau Gadsdon
IMDb: www.imdb.com/title/tt10329614/