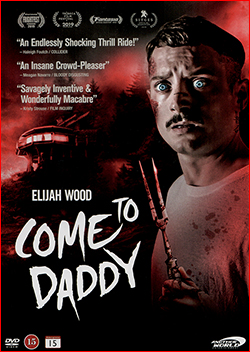 Norval Greenwood (Elijah Wood) is a musician who lives with his mother in Beverly Hills. One day, he receives a letter from his estranged father, who asks him to come visit in a secluded cabin by the coast in Oregon. Norval decides to take the trip, despite not having seen his father since he was five years old. When he arrives, his father appears to be happy and welcoming, but things soon take a different turn. He becomes more and more taunting towards Norval, insulting him and being aggressive. And one afternoon, everything escalates into something that will send Norval into an experience he never could have imagined.
Come to Daddy is a black comedy thriller from 2019, directed by Ant Timpson as his directorial debut, and written by Toby Harvard. And it's one of those films that certainly works best if you know as little as possible about the plot beforehand, as there's a lot of twists and turns that keeps you interested and sometimes even surprised. The origin for this movie came after the director's father passed away, and he was brought home after embalming. A week was then spent with a corpse in an open coffin, with people he didn't know coming over to pay their respects, sharing stories about his father that seemed like they could have been about another person. This sparked the idea for this film. He also told he was influenced by films like Snowball Express (1972) for the cat & mouse twists, Sexy Beast (2000) for the comedy violence, The Servant (1963) for the mindgames, The Birthday Party (1968) for the pitch-black comedy, and Straw Dogs (1971) for the simmering violence awakened. He also said Roald Dahl's Tales of The Unexpected influenced the screenplay. So yeah, there's a lot of different inspiration sources there, and should give a little bit of a pointer as to what kind of movie this is.
Elijah Wood, which mainstream audiences probably mostly know for his role in The Lord of the Rings (but who has later given solid performances in several other movies, like for example as the serial killer in the 2012 Maniac remake) offers a good performance here as the innocent, abandoned son hoping to bond with his estranged father. The movie gives off a slightly surreal strangeness, with nutty characters and an even nuttier plot. It's a black comedy about the insanities of family life and the disturbing revelations that can come forward. The pacing is good, starting off with the mystery about Norval's father while giving the viewer the obvious feeling of something being wrong. I'd say it's in the first part of the movie that the true horror elements are at most present. When things escalate, the tension is kept up by offering new reveals and a nice blend of comedy and action.
Come to Daddy is a roller coaster ride with twists and turns, violence and a good slice of black comedy. Maybe not very memorable and not a movie that can be recommended to all audiences, but overall a fun ride and worth watching, especially if you like your movies a little strange.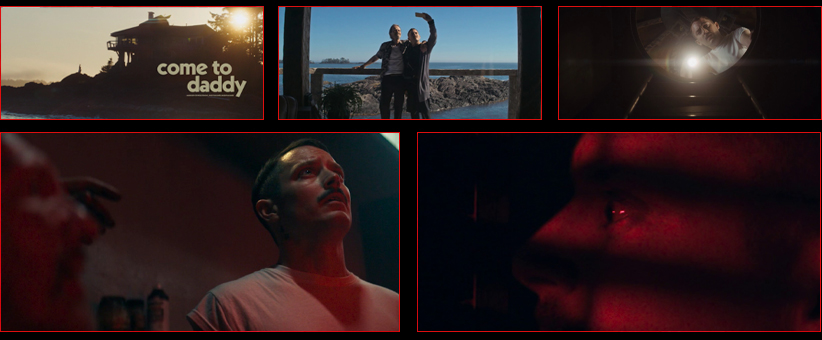 Director: Ant Timpson
Writers: Toby Harvard, Ant Timpson
Country & year: Ireland, Canada, New Zealand, USA, 2019
Actors: Elijah Wood, Stephen McHattie, Garfield Wilson, Madeleine Sami, Martin Donovan, Michael Smiley, Simon Chin, Ona Grauer, Ryan Beil, Raresh DiMofte, Alla Rouba, Noam Zylberman
IMDb: //www.imdb.com/title/tt8816194/