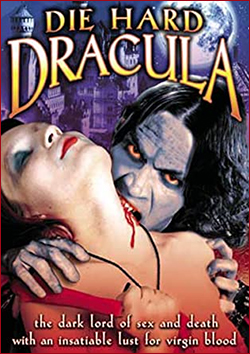 Die Hard Dracula. How can it go wrong with a title like this?
The film opens with quick a prologue we've heard thousand times about Vlad The Impaler and his battle against the Turks, as we see images of people literally sitting on poles in their underwear with no blood, no gore, nothing. Not a single attempt to make us believe that we're looking at tortured and impaled people in a dark middle ages scenario. You're just a few seconds in, and you already ask why the hell this movie was made and why it even exists. The visuals are just flat out dreadful, and calling it amateurish doesn't do it justice, it's even far beyond that.  It's almost a cliché thing to say, but it's really hard to put words on how ridiculously bad this is. And this is just the first ten seconds or so.
And after 300 years, Dracula has finally had it with Romania and its God-fearing whining people. As he lies in his coffin, we hear his first lines in the distinct Romanian accent: "No more pray! Three hundred years I listened to this awful praying and boOolshit. I can't stand it no more." We then get a scene where his casket flies over the European landscape (yes, with Dracula in it) with the tune of Ride Of The Valkyries playing. What really is there to say … It's pure movie magic. He lands in his new castle in Moravia, Czech Republic.
After the opening we jump over to sunny California, where we meet the young couple Julia and Steven, who have fun with water skiing. But tragedy suddenly strikes when Julia loses the grip and disappears into the sea and assumingly drowns. One night Steven and his father see a shooting star, and Steven says "I wish Julia was alive." His dad then follows up with this line: "You know the old saying … see a falling star, a wish may come true." Steven responds with a blank stare like if he was a lobotomized mental patient : "Yeah … I wish … I really wish …." No tears, no emotions. He's probably the worst actor in this film. Anyway, the shooting star hits a random coffin some place in Moravia that resurrects a young, recently deceased woman back to life, who Steven ends up imagining is Julia. Yes, seriously. After the shooting star incident, he then jumps on a plane to Prague and goes from pub to pub, only to get more and more drunk and disappointed. A lot of nonsensical bullshits happens, but he eventually ends up in a tavern where he meets this girl, who then gets kidnapped by Dracula. Van Helsing finally pops up from nowhere, just in time, who teams up with Steven to kill Dracula and save the girl.
Van Helsing is played by Bruce Glover (father of Crispin Glover), and he acts more like a confused half-drunk uncle you just want to put to bed with wishes of a better tomorrow. Most of the " actors " seem to be either drunk, or just on something. I would be too, if I was acting in a film like this. We see Dracula in several shapes, played by several actors, one worse that the other.  We see him as a big, fat slob that looks  like Jabba The Hut and a rotten potato with a wig, and his regular shape where he looks more like Meat Loaf in a porn spoof (just without the porn), to mention some examples.
Dracula also shows off some display of magic powers by throwing fireballs, and shooting lightning from his fingers as he acts like a mental lunatic who tries his best not to impersonate Emperor Palpatine. Several of Dracula's dialogues were dubbed with the most stiff and lifeless voiceacting that you could've heard from a discarded PS1 game. Dracula is the funniest part in this demented madhouse of a movie, for sure, and has a lot of laughable dialogues. And we get the most retarded sex scene with the tune of the the Nutcracker playing. Merry Christmas.

The effects and set-design is a whole another level of absurdness, if not lazyness. While a castle somewhere in Czech Republic was used as the exterior for Dracula's Castle, the interior set-design is just a room, covered with white cow wallpaper, or whatever it is. It's something straight out of an elementary school play. The Dracula costume was probably bought at Walmart. The ending puts the level of stupidity all up to eleven which gives a clear indication that we would never see the sequel Die Hard Dracula With a Vengeance, directed by Tommy Wiseau, as much I would have loved to see that one.
And that was Die Hard Dracula. Pure mentally retarded trash from start to finish where someone just picked up a camcorder, a mic and goofed around with friends during a long weekend. And God knows what went through their heads. They probably had the time of their lives making this, like they where some teens making their first movie in someone's backyard, but the result is something even their mothers would struggle to give legit compliments to. Especially considering that the writer, producer and director Peter Horak was at whopping 55 years old when he made this, after working as a stuntman in Hollywood for two decades. At least he got to see his masterpiece become full circle when it finally got released on DVD from Alpha Home Entertainment before he died in 2017.

Director: Peter Horak
Country & year: USA, Czech Republic, 1998
Actors: Bruce Glover, Denny Sachen, Kerry Dustin, Ernest M. Garcia, Chaba Hrotko, Thomas McGowan, Talia Botone, Nathalie Huot, Peter Horak, John Slavik, Robert Coppola, Eddie Eisele, Paul Lackey, Joseph Miksovsky, Margie Windish
IMDb: www.imdb.com/title/tt0162930/