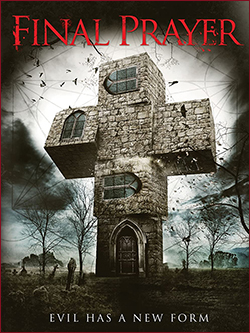 A team of investigators, consisting of Deacon (a religious brother who is some i kind of skeptic – however that makes sense) Gray (an englishman who is both a layman and a technology expert) and Father Mark (who is, of course, sent by the Vatican to team up with these guys in order to investigate reports of supernatural activity in an old thirteenth century church. The guys arrive at the old church, where they set up their recording equipment and stuff, Ghost Adventures-style. The local priest believes that the things happening inside the church is a miracle, until he later starts questioning what is happening as being something completely different – and leaps to his death from the bell tower. After this, the inhabitants in the village become hostile towards the investigators…
Final Prayer, also known as The Borderlands, is a found-footage horror movie from 2013, directed by Elliot Goldner. While it may look like a very standard supernatural found footage flick, it twists around to something that is more akin to cosmic horror with some obvious lovecraftian vibes. An old decrepit church situated on top of a hill, a village with hostile and weird inhabitants…yeah, if you've ever read some of Lovecraft's works like "Shadow over Innsmouth" and "Rats in the Walls", you'll easily spot the resemblances here.
The movie starts a little slow, where the characters (who differs greatly in personalities) try to get along while conducting their investigations. While many found footage horror movies have their characters portrayed with bland or shallow personalities, Final Prayer spends some time with its character development. And that is not a bad thing. It's overall spooky and creepy enough, with an atmospheric setting and a gradual build-up of suspense. It's treading customary paths for a while where you easily find yourself thinking this is a run-of-the-mill ghost/demon film…but as strange things keep happening you realize that this is not exactly what you expected. And so do the characters…
Now, what makes this movie stand out a bit from other fount-footage horror movies, is the rather unexpected WTF ending, which does come as a bit of surprise despite that you've been getting more than a few hints and reveals as the story progresses which tells us that this is no ordinary "haunting". There are some scenes during the ending that are shot in some really narrow caves, which actually shows some real fear in the actor's expressions, as they suffered from those claustrophobic confines. I'm not going to spoil any more, but it was definitely unexpected and kind of weird.
Overall, Final Prayer aka The Borderlands (with the working title "The Devil Lies Beneath", which is, perhaps, the most fitting title of all) may appear at first glance to be one of those found footage movies that offers nothing more than the usual and over-used tropes…but this does change, and makes this British horror movie well worth a watch.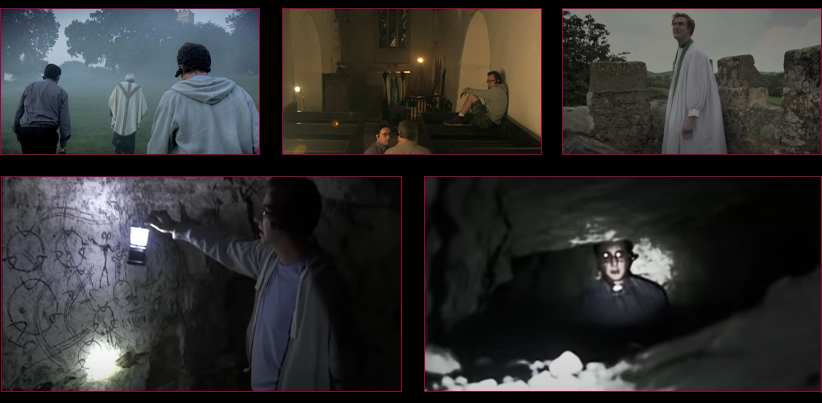 Writer and director: Elliot Goldner
Also know as: The Borderlands
Country & year: UK, 2013
Actors: Gordon Kennedy, Robin Hill, Aidan McArdle, Sarah Annis, Lee Arnold, Drew Casson, Peter Charlton, Marcus Cunningham, Patrick Godfrey, Kevin Johnson, Luke Neal
IMDb: www.imdb.com/title/tt2781832/