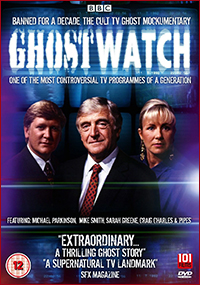 "Ghostwatch" is a live-documentary that was broadcasted on Halloween night on British national television in 1992. The show opens in a studio at BBC with the dry elderly host Michael Parkinson in suit and tie, saying "The program you're about to watch is a unique live investigation of the supernatural. It contains material that some viewers may find to be disturbing." Then we get introduced to the "most haunted house in England", a council house in North London, where a single mother and her two young daughters are being tormented by poltergeist activity. With BBC's reporters, cameras and some paranormal investigators in place, they're ready to hopefully get some paranormal activity on tape for the whole of Britain to see live. The studio also has a phone-number the viewers can call during the broadcast to share their own experiences with the paranormal. Further into the investigation we learn that the family is apparently haunted by a male ghost called Pipes, who likes to hide behind the curtains in the children's bedroom. We even see a manifestation of him in the children's bedroom after they've gone to sleep, and things starts to get from bad to worse while the cameras keeps rolling.
By the way, did I mention that the documentary was just a big, fat hoax? Written by screenwriter and horror novelist Stephen Volk who pitched the idea originally as a conventional drama to the producer Ruth Baumgarten at BBC. It was meant to be a segment of a series, but the producer wanted to go for a single, and Volk got the idea to make it as a real transmission from a haunted house in War of The Worlds-style. The producer loved the idea and asked Volk if they could do this. Well, let's try, he simply replied. And they certainly did, and succeeded far more at what they had imagined, in both a positive and a negative way. Lesley Manning was hired to direct, and filmed the whole thing one week in advance before it was broadcasted as a "live" event in a haunted house on Halloween night. And with a huge budget, believable actors, the well known and respected Michael Parkinson as a host, and to top it all, watermaked by BBC, what could go possibly wrong? Oh, well..
Although it was presented as live and real, broadcasted on the trusted BBC, we got an obvious big hint at the end when the titles started scrolling, that this was a hoax. In other words; you've been fooled, there's no Hairy Scary or a Crooked Man hiding under your bed. It's safe, have your tea, go to sleep, good night. But damage was already done as half of Britain was nearly traumatized and scared shitless, in addition to being confused and pissed off. For those of us who grew up in the 80's, it's not hard to imagine the impact of a case like this. This was presented as a raw, authentic, unfiltered documentation of a family who was tormented by poltergeist activity for all to watch on TV in their safe living-room at home. And I know I would have had nightmares for a long time myself if I saw something like this when I was teen in 1992. There was no internet where people could jump right into to make some thousands tweets and upload hundreds of reviews and analysing-to-death videos on YouTube and debunking the whole thing before the end credits even started rolling. That type of exposure didn't exist in those days, and that was also the beauty of it, unless you read newspapers the days after. It kept some of the mystery going and people talking. God, I feel old now…
During the broadcast that night, Stephen Volk sat in a pub somewhere with the cast and crew celebrating while watching their masterpiece, completely unaware of the aftermath that followed. After it ended, the producer arrived to tell them that there had been a lot of complaints tonight. Volk took that as a "great, it worked / Ha Ha / fooled you all" with a big grin on his face. 30. 000 had called BBC with feelings of shock, anger and confusion. Three pregnant women went into labor through being shocked, a lot of parents were angry when their kids couldn't sleep that night. Volk's personal favorite was a letter sent to the producer by a woman whose husband was a veteran of the Falklands War, who was so scared watching the program that he'd literally shit his pants. And she was writing to get compensation to buy him a new pair of jeans. The next day the shit-storm in media didn't waste any time and headlined in the tabloids "The Heads Must Roll at BBC" which resulted in the network deciding to bury the whole program and never broadcast it, and pretend it never existed. So yeah, a complete shit-show for the poor bastards at BBC. But while these can be considered laughable incidents, it got worse.
Five days after the broadcast, an 18 year old man killed himself due to the psychological effects it had on him. He left with a suicide note saying "Mother, do not be upset. If there are ghosts I will now be one and I will always be with you as one.". His parents claimed that he was "hypnotized and obsessed" by the program and blamed BBC. A case with Post-traumatic stress disorder was also reported with two ten years old boys who also got deeply affected. You can of course debate whether it's justifiable to blame a TV-show for this, but fortunately there weren't more reported casualties.
It wasn't until 2002 "Ghostwatch" got its first reincarnation on VHS and DVD on its 10th year anniversary, with commentary track by Stephen Volk, director Leslie Manning and producer Ruth Baumgarten. And as a gold-digging-trivia gem as this is, a retrospect documentary was made in 2013 called "Ghostwatch: Behind The Curtains" with interviews of the cast and crew.
"Ghostwatch" is a fun watch (Ghost-Fun-Watch), but mostly due to its wild concept that was new and fresh at the time, and how this cultural phenomenon literally scared and scarred a whole nation out of the blue and buried BBC in angry letters from terrified viewers. Orson Welle's radio hoax "The War of the Worlds" from 1928 must be the only case besides of this that pops in mind. This is just a one of a kind that deserves its recognition and legacy, and also a part in history of horror movies. Having such a backstory and the huge controversy in mind, while putting your mindset back to 1992 and imagine watching it on an old TV, it makes an even better viewing experience.

Director: Lesley Manning
Country & year: UK, 1992
Actors: Michael Parkinson, Sarah Greene, Mike Smith, Craig Charles, Gillian Bevan, Brid Brennan, Michelle Wesson, Cherise Wesson, Chris Miller, Mike Aiton
IMDb: www.imdb.com/title/tt0200659/