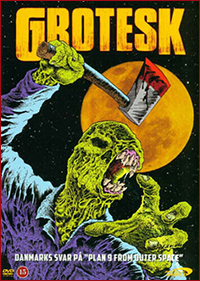 We're told that a radioactive slime from the moon has found its way to Earth from a space shuttle that plunges into the sea near the coast of Denmark, and infects humans and turn them into murderous mutants. One of them, with a head that looks like a rotten potato, brutally kills a random couple who are having a picnic by the beach. And after this quick opening, we have basically seen the whole movie in a nutshell which oozes of zero budget and amateur hour all the way. We then get introduced to some guy who is on his way to a campsite near the radioactive area where he has rented a trailer for the summer. We can assume that this is the film's protagonist, but he's more like another random dude who likes to sniff at women's panties while jerking off. And … uhm, well…
… what more should one really say when there's basically no plot to summarize. "Denmark's answer to Plan 9 From Outer Space" it says on the DVD cover. It's more like Bad Taste meets Violent Shit in a septic tank.
The film looks like pure shit, like as if the camera lens was rubbed with a layer of piss and puke before every shot, just to make the visuals as ugly as possible. I can assume that the green filter, or whatever it is, is supposed to illustrate the toxic radioactivity, but it doesn't take long before it hurts your eyes. Don't watch this on a big screen, just trust me on that one. We also get some goofy out-of-sync dubbing, Zombie '90-style, and amateur actors from the bottom of the barrel who probably haven't been in front of a camera before or since Grotesk. The effects are cheap and cheesy, the micro-budget standard one would expect. Then we have one of the movie props, which is supposed to be some kind of tracking device from the military, which is made out of a cardboard box. Yeah, really. It's so retarded to the point that you get the impression that the film was either made bad intentionally, or by some twelve-year olds with their dads, moms and creepy uncles in the roles, but I'm not so sure.
And what else..? Not much, and I think you know by now exactly if this is your thing or not. But with the short running time of approx. 1 hour, it's a cheesy fun-bad movie that doesn't require too much of your time (or your brain cells). You can find the DVD from Another World Entertainment after a quick search on eBay.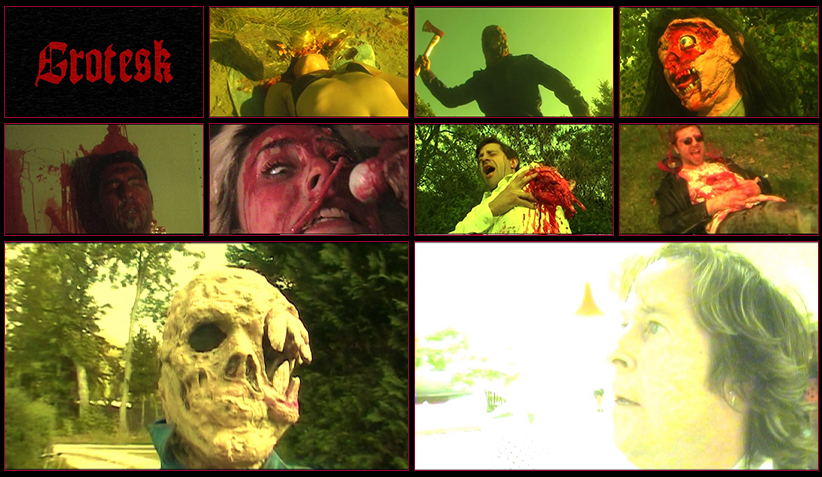 Director: Peter J. Bonneman
Country & year: Denmark, 2015
Actors: Heine Sørensen, Jørgen Gjerstrup, Mai Sydendahl, Jack Jensen, Justin Metzger, Mai Edelgaard, Rune Jacobsen, Kim Kofod, Rune Dybdahl, Frederik Tolstrup, Jens Kofoed, Natasha Joubert
IMDb: //www.imdb.com/title/tt4418130/