Six friends want to have some fun during the lockdown, and decide to hire a medium in order to hold a seance via Zoom. At first it's all fun and giggles, where several of the participants struggle to keep a straight face. However, they soon realize they've unleashed something that might take their lives.
Host is a horror movie made during the pandemic, and decides to use this as an advantage in order to make a short but effective chiller. The usage of computer screen-based storytelling has been done before (like in Unfriended from 2014 and the mystery thriller Searching from 2018), and just like the aforementioned movies it works pretty well in order to portray a modern and realistic take on how the majority of people of today tend to communicate, especially now when social distancing has put restrictions on how and when we can interact with each other. Screen-based interactions with other people is just the way many people now communicate, and we see this put well into effect during Host. The concept behind this movie is even more relatable today, when physical meetings are difficult or even out of the question, which means that services where you can interact with each other online is used by pretty much anyone these days (including lawyers, who are not able to turn off their cat filter…)
With a runtime of only 57 minutes, it uses every minute effectively in order to build up the tension and keep the viewer in suspense. It also uses the real names of the actors, and I suppose this helped with keeping the performances more natural and authentic. In fact, I think that keeping it down to barely an hour is an excellent choice, instead of stretching it out unnecessarily just to fit into a more typical feature length. It really does all it can with its limitations, and the result is one of the most effective horror movies released in recent times. While having a somewhat minimalist approach, it manages to pull certain scenes off in a way that is actually pretty scary at times. The characters are reacting to what is happening to them in a believable way, and it becomes relatable, and therein lies the movie's biggest strength I guess: how the timing, considered the pandemic and forced isolation, gives the entire premise an added feeling of something that hits close to home.
The DVD also included a "behind the scenes" short where they meet up (just like in the movie) to have a seance through Zoom. Nothing really scary happened here, of course, but it was fun to watch nonetheless.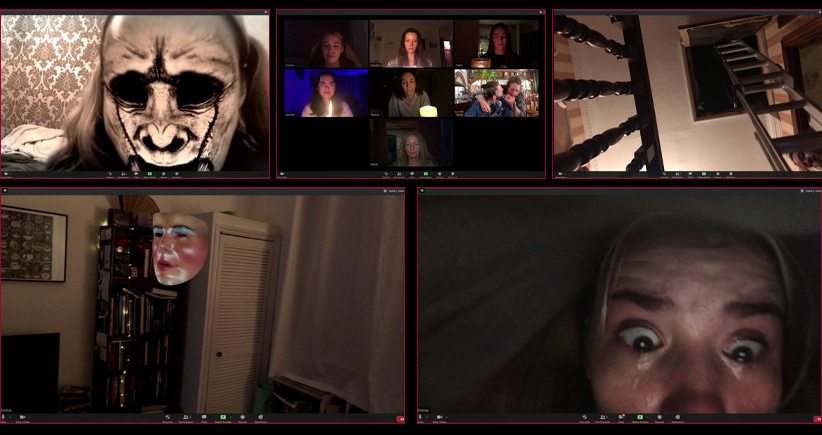 Directors: Rob Savage
Country & year: UK, 2020
Actors:Haley Bishop, Jemma Moore, Emma Louise Webb, Radina Drandova, Caroline Ward, Alan Emrys, Patrick Ward, Edward Linard, Jinny Lofthouse, Seylan Baxter, Jack Brydon, James Swanton
IMDb: www.imdb.com/title/tt12749596/