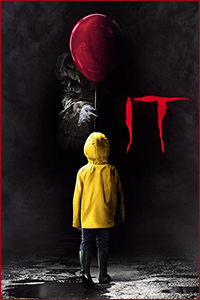 It's 1989 in Derry, a small Maine town. A group of bullied kids who calls themselves "The Losers Club" experience frightening things when a creepy clown named Pennywise starts terrorizing the little town. Children go missing, and the kids band together in the hopes of destroying the creature.
Based on Stephen King's monster of a book, IT, this first chapter of an installment of two movies in total follows the original story in certain parts while also adding something new to the mix. The book has been on the screen before, in the TV mini-series from 1990 (starring Tim Curry as Pennywise). Now, as many readers of Stephen King's work are well aware of, some of his stuff is pretty hard to translate from written text to the screen… and IT is no exception in that regard. The original story contains a lot of stuff that is outright weird (and even some things that would probably not be "acceptable" to include in a Hollywood movie, even by today's standards). Many readers and fans of the book might feel disappointed by a lack of some things they may have loved, like for example Maturin the Turtle, a character that was left out in both adaptions. Then again, there are those of us that have both read the book and still enjoy both movie adaptions on their own.
Now, one of the strongest qualities of this movie is the performances by quite a well-chosen cast. The actors are doing a terrific job in every scene they're in, and Bill Skarsgård's performance as Pennywise the Dancing Clown is nothing but stellar. Like in the book, one major part is the bonding between the kids, something that is also being focused well on in the film. The members of "The Losers Club" not only has to face the horrifying shape-shifting entity, but also the bully Henry Bowers and his gang, which adds additional suspense. The history of Derry is rather rich on detail, and as our protagonists delve further into the backstory and origins of the feared clown they're both hunting and are being hunted by, we get some insight into It's long-lasting reign of terror. It is coming out of hibernation every 27 years to feast, repeating the cycle over and over.
When the kids experience the frightening visions caused by the entity, who uses their worst fears against them to scare the living daylights out of them, it's always a pleasant experience with a mix of straight-out horror and even some comedic parts. It's fun and it's scary at the same time. The film has been criticized for being heavy in CGI usage, and while there are some scenes that are not exactly top-notch in that department (like when Georgie is getting his arm chewed off), there's also some scenes that works pretty well. Also, the scenes where Pennywise's eyes are pointing in different directions is actually a trick Bill Skarsgård is doing all by himself.
Today's audience will probably automatically draw parallels to Stranger Things (and that series actually includes a major role by Finn Wolfhard, who's playing Richie in IT), which is also set in the 80's and features a group of kids battling supernatural forces. In the recent years, we've had quite a lot of "kids grouping together to fight scary things", also including the excellent "Summer of 84" which has a pretty ballsy ending (review coming on Horror Ghouls later!). However, with IT being a story from 1986, with an earlier movie adaption in 1990, it's got a different fanbase that is not sold mainly on 80's nostalgia, but rather on the story itself and the iconic Pennywise. It's a fun ride and a very good adaption, despite not being able to grasp at every single subject from the original story (which would, in my honest opinion, not really be possible without making it a total mess anyway).

Director: Andy Muschietti
Country & year: USA | Canada, 2017
Actors: Jaeden Martell, Jeremy Ray Taylor, Sophia Lillis, Finn Wolfhard, Chosen Jacobs, Jack Dylan Grazer, Wyatt Oleff, Bill Skarsgård, Nicholas Hamilton, Jake Sim, Logan Thompson, Owen Teague, Jackson Robert Scott, Stephen Bogaert
IMDb: www.imdb.com/title/tt1396484/

Related post: It Chapter Two (2019)