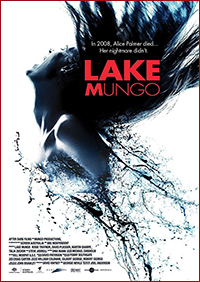 Alice Palmer is a sixteen year old girl, that drowns while swimming in the local dam. Her body is eventually recovered, and her grieving family then starts experiencing strange events. Thinking it's got something to do with their recently deceased daughter, they seek the help of a psychic who starts digging into Alice's past. He reveals that Alice used to have secrets, and that she was living a double life that her family wasn't aware of. The family then tries to figure out a connection between her death and the experiences they're going through.
While most horror movies featuring a ghost depicts them as either vengeful or harmful, Lake Mungo takes quite a different approach. Written and directed by Joel Anderson, this film is made in a faux documentary style ("mockumentary"). It shows how a grieving family tries to figure out if they are haunted by their deceased daughter/sister. Is her appearance on her brother's photos a call from beyond the grave? Are the things they're experiencing caused by Alice's ghost, or is everything just a manifestation of their grief?
The documentary-style fits the movie rather well, giving it a much more realistic and eerie tone. There's a few twists and turns throughout the story, making it a mystery filled with secrets, surprises and even lies, all eventually leading the family to a place called Lake Mungo (which is an actual dry lake in Australia) where Alice apparently was camping before she died. The pacing is a bit slow while it's building towards more and more reveals, and there are some twists and turns that might seem unnecessary and even totally irrelevant to Alice's demise. The slow pacing of the movie is likely to be perceived as tedious by some, but this is a film that does not rely on the effectiveness of only certain parts, but rather as a whole-package thing.
Lake Mungo is not a movie whose main goal is to make you jump in your seat, but instead wants to crawl under your skin. There are a few scenes here that actually got to me (and that's something that happens very rarely!), and for me it was the whole idea of loss and grief mixed with the supernatural goings-on that got to me. It was for the most part a very melancholic and sad movie (if Mr. Ghööl had a "Sad" badge, it would fit well here). It isn't a movie with huge scares and shocking moments, but it's unsettling and different. Lake Mungo is an exploration into grief and loss and the thought of maybe being haunted by a loved one, and your ability to connect with such experiences will probably have a lot to say on how you perceive this film.

Director: Joel Anderson
Country & year: Australia, 2008
Actors: Rosie Traynor, David Pledger, Martin Sharpe, Talia Zucker, Tania Lentini, Cameron Strachan, Judith Roberts, Robin Cuming, Marcus Costello, Chloe Armstrong, Carole Patullo, John Dunn, Laurie Dunn, Kirsty McDonald, James Lawson
IMDb: www.imdb.com/title/tt0816556/