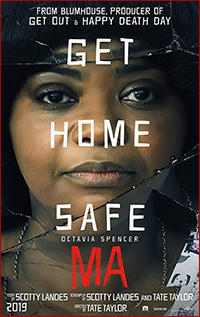 Sue Ann is a lonely middle-aged woman who befriends a group of teenagers when they beg her to buy some booze for them. She eventually lets them have their parties in the basement of her own house, and the teenagers all think they've gotten really lucky. One of the teenagers jokingly nickname her "Ma", a name Sue Ann immediately demands that everyone calls her. In not too long, the teenagers start questioning Ma's intentions as her behavior gets more and more unsettling. She also forbids them to go upstairs, they're only allowed to be in the basement. Nothing suspicious about that…
"Ma" is a psychological thriller film from Tate Taylor and Blumhouse, which came into existence because Tate wanted to make a movie about "something fucked up", and a conversation with Octavia Spencer who admitted she was tired of getting the same-ish roles and never a lead role (Tate and Octavia are long-time friends). Tate also knows Jason Blum, and simply went to his office saying "I want to do something really fucked up". The result was "Ma".
The movie starts off somewhat silly and showing us early on that it doesn't take itself entirely seriously, but it's growing into something darker as Ma's background story is slowly revealed piece by piece. While her actions aren't justifiable, and it's evident that the middle-aged woman is completely batshit crazy, the movie does bring up the legitimacy of negative personality behaviors caused by childhood trauma. We don't agree with Ma, however we can't help but understand and sympathize with her at least a little bit.
Octavia Spencer truly nails her role as the disturbed "Ma", and it's not an exaggeration to say that her role is the whole foundation needed to make this movie work. While the movie is somewhat predictable, it's still quite an enjoyable popcorn-flick.

Director: Tate Taylor
Country & year: USA, 2019
Actors: Octavia Spencer, Diana Silvers, Juliette Lewis, McKaley Miller, Corey Fogelmanis, Gianni Paolo, Dante Brown, Tanyell Waivers, Dominic Burgess, Heather Marie Pate, Tate Taylor, Luke Evans
IMDb: www.imdb.com/title/tt7958736/