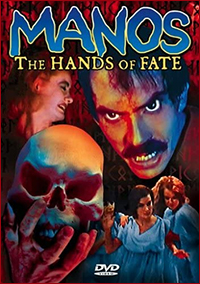 In the summer of 1966 in El Paso, Texas, something really magical happened: Manos: The Hands of Fate was made. A movie so hilariously, mind-boggling bad that hardly any words from this universe would make it justice. But I'll try. Harold P. Warren was a middle-aged man who worked as a fertilizer salesman for a living, but had a certain passion for film and was also a member of the local theatre. But while the passion was there, the talent was not. Yeah, we're talking about an Ed Wood here. Anyway, one day he had a coffee with a screenwriter where he claimed that it wasn't so hard to make a horror film, and made a bet with the screenwriter that he could make en entire film on his own. After the bet was official, Mr. Warren had no time to waste and scribbled the outline for his horror film on a napkin, a film in which he would write, direct, produce and be the star in. He then gathered some amateur actors, a budget of $19,000 and a 16 millimeter camera from the stone-age that could take only 32 seconds of footage at a time. And forget about any sound, all dialogues were horribly dubbed, assumingly in his henhouse or something, by three persons in post-production.
A family of three, the husband Mike, wife Margaret, their daughter Debbie her little dog (which of course is soon to be killed) is on a road-trip on a desert place where they seem to be lost. As they continue to drive through the deserted countryside, in a driving-segment that seems to last forever while the soundtrack is consisting of elevator music, they arrives to a place which is guarded by Torgo. He's half-human and half-satyr, with big knees and dressed as a homeless man from a western movie. And one can see right away that this man has some serious issues as he's twitching, barely able to walk, completely zoned-out and disorientated with a hopeless expression on his face that screams: Kill me now, please! Well, he wasn't acting, more on that sad story later.

While they have some kind of a staring contest, Torgo finally delivers one of the greatest lines in the history of cinema: "I am TORGO! I take CARE of the place, while the MASTER is away!" And he then says "But the CHILD, I'm not sure the MASTER would approve, or the dog. The master doesn't like children". He also has his own theme. Anyway, they ask him for some directions, but Torgo says that there isn't any way out of here, and it will be dark soon. Torgo lets them stay for the night, even though he gives a warning with "The MASTER would be very DISTURBED!" As they settles in they see a painting of the master, who looks more like a Mexican drug lord. The wife finds the painting very unsettling and says with the most monotone-dubbed voice: "He looks so sinister… oh, Mike, I'm scared…he has the meanest look…" And most of all, as Torgo said, he doesn't like children. But we soon learn that he loves beautiful women and The Master wants her. But since The Master already has a dozen of wives in his harem, Torgo wants her for himself. Alright, time to get the fuck away. Too late.
Here's a drinking game: take a shot for every technical flaw and fuck-up that pops on screen, and you'll be dead of alcohol poisoning just after the ten first minutes or less. Where to even begin… the fact that the film was shot with a rotten potato of a camera that was able to just film 32 seconds at a time, is just the top of it. There's so much eye-rolling and what-the-fuck-moments here that it is hard to keep track. The editing and pacing is completely off the rails, the acting is completely absurd with lines that hardly could be written by a sober person. It's so incompetent in every single aspect, from the first frame to the last, in such a unique way you've probably never seen before. Actors look awkwardly right into the camera with obviously zero instructions from the director as the camera just rolls. There's a cat-fight scene between the Master's frustrated wives which is so bad that words are just too hard to find, as pretty much the rest of Manos: The Hands of Fate – or "Hands: The Hands of Fate" which is the accurate translation since Manos is the Spanish word for hands.

Manos: The Hands of Fate became a big deal in El Paso when the film had its premiere at the local theatre, where even the city major was among the audience. The actors came with limousine and all dressed up as it was a big Hollywood-film event, but little did they know as the cast and crew hadn't seen a single clip from the film, and didn't know what a disastrous, humiliating shitshow that awaited them. The only one who saw some of the raw footage, was Jackie Neyman Jones, who plays the family's daughter, who could tell that this didn't look like real filmmaking after seeing some Hollywood movies. Harold then said "Don't worry, we'll fix it in the lab". And she then thought to herself: wow, movies really ARE magic. The premiere can maybe be described as a "The Room scenario" where the audience begun to laugh and scream at the movie in such way that the cast and crew snuck shamefully out of the theatre and was never seen again. John Reyonolds, who played Torgo, blew his brains out after struggling with drug problems, which is on full display in the film. Nothing would stop Hal Warren, however, and shortly afterwards he wrote a script for his second film, with the title Wild Desert Bikers, but no producer would touch it. So, Manos became his first and final film.
After some screenings at some drive-ins, the film quickly disappeared into obscurity, and it wasn't until the film was picked up by the Mystery Science Theatre 3000 some years later, that it was brought back to life. It has since gathered a solid fanbase and cult-following, and has grown into one of the greatest so bad, it's good movies. An obscure prequel titled Manos: The Rise of Torgo was made in 2018 and the sequel Manos Returns where Tom Neyuman, The Master himself, would reprise his role. Unfortunately he died during the filming at the age of 80. And as a goldmine of trivia Manos: The Hands of Fate is, also check out the short documentary Hotel Torgo.
Director: Harold P. Warren
Country & year: USA, 1966
Actors: Tom Neyman, John Reynolds, Diane Adelson, Harold P. Warren, Stephanie Nielson, Sherry Proctor, Robin Redd, Jackey Neyman Jones, Bernie Rosenblum, Joyce Molleur, William Bryan Jennings
IMDb: //www.imdb.com/title/tt0060666/