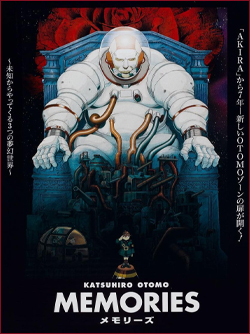 Memories (aka Otomo Katsuhiro's Memories) is an animated science fiction anthology film from 1995, and it is based on three of Katsuhiro Otomo's short manga stories: Magnetic Rose, Stink Bomb, and Cannon Fodder. While Katsuhiro is best known for his work on Akira (both the manga and the movie), he does have other works that are worthy of recognition, and Memories is one of them. Since there are three segments, I'll write about each of them separately:
MAGNETIC ROSE:
The crew at The Corona, a deep space salvage freighter, encounters a distress signal while out on a mission. They decide to respond to it, and come upon a spaceship graveyard orbiting a giant space station. Intrigued, they want to take a closer look, and once inside, they are met with a splendor of European interior and furnished rooms showing various states of decay…almost like a haunted house in space. The ship belonged to a opera diva named Eva Friedel, who disappeared after her fiancé was murdered. They split up in order to find the source of the distress signal, and start experiencing what could be perceived as paranormal encounters, like strange noises and visions…
Magnetic Rose is the longest of the three segments, and I guess the best description would be that it's a little bit of Event Horizon mixed with a haunted house tale, and it's my favorite of the three. The artwork of the ship's interior, together with the atmospheric setting and eerie vibe throughout makes this a solid science fiction ghost story. It's chilling, beautiful and filled with all the right ingredients for a spooky story.

STINK BOMB:
Nobuo Tanaka is working at a lab, but feels really down as he's battling a bad case of the flu. He mistakes some experimental pills for being cold pills (which are, in fact, part of a biological weapon program). He takes one, and soon develops a deadly body odor which kills everyone in the laboratory (except himself, of course). Not realizing what's going on, he reports the incident to the headquarters, who instructs him to deliver the experimental drug to Tokyo. Upon traveling there, his body odor grows stronger and kills everything in his path…
Stink Bomb, with its pretty absurd premise, goes in a very different route from the more serious and chilling segment Magnetic Rose. This is absurd comedy hour all over, and strangely upbeat as you see both humans and animals drop dead as the confused and horrified Nobuo keeps going in order to complete his mission. It's funny and weird, utilizing its dark humour pretty well.

CANNON FODDER:
In a walled in city which considers itself to be constantly at war, everyone's livelihood depends on maintaining the enormous cannons which are placed all over the place. We follow the story of a young boy and his father, who works as a cannon loader. And while the city constantly fills their news regarding "successful bombings" of the "enemy", there actually exists no evidence of any of this…or any evidence of there actually being an enemy at all.
Cannon Fodder is the segment which differs most in art style, with the characters being drawn with what is a little reminiscent of the "Animal Crossing"-style red triangle noses. But it's also the segment which, although not providing any overt horror, gives most food for thought. It's a story about a city and its people, constantly riled up with fear over that horrible and dangerous "enemy" that they constantly need to battle…except there is no evidence for this enemy's existence whatsoever, other than what their local media is telling their citizens. It's a grim depiction of how people can be misled by their leaders into a war against something that doesn't even provide a threat…

Overall, Memories is holding up really well despite its age. The animation is fluid and visually mesmerizing, as well as hauntingly beautiful, and each segment provides a different yet captivating experience.
Directors: Kôji Morimoto, Tensai Okamura, Katsuhiro Ôtomo
Writers: Satoshi Kon, Katsuhiro Ôtomo
Original Title: Memorîzu
Country & year: Japan, 1995
Voice actors: Shigeru Chiba, Hisao Egawa, Kayoko Fujii, Nobuaki Fukuda, Ami Hasegawa, Isamu Hayashi, Yu Hayashi, Michio Hazama, Masato Hirano, Hideyuki Hori, Hiroaki Ishikawa, Takkô Ishimori, Tomoko Ishimura, Tsutomu Isobe
IMDb: www.imdb.com/title/tt0113799/