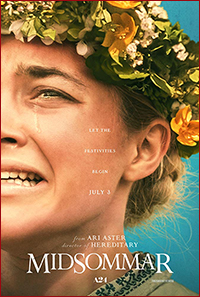 Dani and Christian, a young American couple, are at the brink of breaking up. Christian has already started planning a trip abroad with his friends and is more or less starting to walk out the door on the relationship, but after Dani experiences a horrible family tragedy where she loses her parents and sister in a murder-suicide, Christian can't make himself break out. Months later, when Dani finds out about his planned trip to Sweden with his friends, she invites herself along with them. One of Christian's friends, the Swede Pelle, brings them all to a traditional "Midsommar" celebration in a secluded area called "Harga". All seem to be flowers and sunshine, until it becomes clear that they've ventured into a sect whose "traditions" proves to be rather disturbing.
As a Norwegian (Sweden is one of our neighbouring countries) I was already familiar with their summer tradition called "Midsommar" (Midsummer), which is highly celebrated in the entire country and by some considered the most popular tradition (to the point of even surpassing Christmas). It involves decorating your hair with flowers, dancing around the "Majstång" (Maypole), partying and in general having lots of fun. In other words: the real "Midsommar" is a harmless and fun tradition, so just relax: if you want to visit a Scandinavian country, you won't be killed by crazy sect-members during a summer festival.
Ari Aster made quite a name for himself with last year's "Hereditary", which is considered by many as the best horror movie made in recent years. And despite your own personal opinion on that matter, there's no denying that the guy sure knows how to make creepy and unsettling movies. "Midsommar" is quite different from his previous film, however, and you may probably consider it more as a thriller. It's primarily a story about a couple breaking up with each other, and Dani's broken psyche due to her terrible loss. In this movie, Ari Aster has taken folklore and turned it into a bizarre nightmare filled with sunshine and flowers, heavy with symbolism and tons of things open to interpretation. Some of the rituals depicted in the movie are based on actual rituals, while others belong more to myths and legends without definitive proof that they were ever real. Like the "Ättestupa" scene, where two elders are jumping from a cliff to their deaths: this is based on ritual senicide during Nordic prehistoric times, where elderly people either jumped to their deaths or were thrown in order to not be a burden to the household. Suicide precipices and stories of such is debated to be more myth and legend than true, however, and there is no real proof this ever happened. Still makes for quite a horrible scene in the movie, though…
While "Midsommar" may test your patience a little bit, it's held up strongly by a believable protagonist that you really feel sorry for and sympathize with. Dani has been troubled with an unstable and bi-polar sister for years, who has threatened to kill herself multiple times over and thus having kept Dani on the edge and worried sick for a long time. This was even described as one of the strains on Dani and Christian's relationship. So, when Dani's sister actually does kill herself and their parents in a murder-suicide, Dani's year-long worries all become true and she falls completely apart. So when we see her reactions and behavior throughout the rest of the movie, it makes sense. All the worries had gnawed away at her for years, and made her vulnerable. It wasn't just an accident or tragedy that happened out of the blue, this was something Dani had feared for years. And it happening at the brink of Christian's break-up with her, which makes him feel compelled to stay with her, gives the story just the right amount of unease and tension between them. So when they arrive at the festival in Sweden, and is given a fair amount of drugs together with the sunshine and flowers, the movie starts having a really bad and bizarre trip. It's nightmarish, surreal and emotionally strong, and even quite funny in some parts, and makes for quite an experience.
Side note: it would have been a lot of fun (and kinda fitting) if they could have played Sigge Fürst's "Bullfest" in the ending credits. No such luck, though…

Director: Ari Aster
Country & year: USA, 2019
Actors: Florence Pugh, Jack Reynor, Vilhelm Blomgren, William Jackson Harper, Will Poulter, Ellora Torchia, Archie Madekwe, Henrik Norlén, Gunnel Fred, Isabelle Grill, Agnes Westerlund Rase, Julia Ragnarsson, Mats Blomgren, Lars Väringer, Anna Åström
IMDb: www.imdb.com/title/tt8772262/