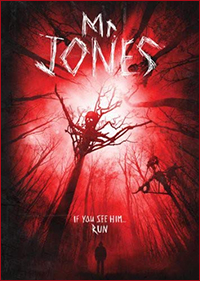 A would-be filmmaker, Scott, brings his girlfriend Penny with him to a cabin far away in the woods. Here, he hopes to achieve the ultimate inspiration for this film (a nature documentary) but that proves to be harder than expected…that is, until they accidentally come across one of the artistic works of the mysterious "Mr. Jones": an artist surrounded by mystery, known for creating creepy artistic scarecrows. Both being very fascinated by this artist's works, not to mention thrilled by the fact that they accidentally found his secret hideout, they decide to make a documentary about Mr. Jones instead. Mr. Jones does not appear to enjoy this unwanted attention, however, and soon the couple are drifting into a world of nightmares…
"Mr. Jones" is a found footage-style horror movie from 2013, which is Karl Mueller's debut, who both wrote and directed it. The first half of the movie is actually quite thrilling: the scarecrows are creepy as hell and sets a really good atmosphere, and the mysterious artist (Mr. Jones) is quite creepy too.
What's the biggest downside with "Mr. Jones" is that it actually starts with a concept that leaves you quite intrigued: the mysterious scarecrow-artist who's hiding away in a cabin deep in the woods is a very interesting concept. Unfortunately, the final part of the movie slides away from this and into a dreamy latter part that becomes trippy and confusing, to the point where it simply gets a bit tedious. It strays away from what we expected to be a creepy villain/monster and delves into something more philosophical, and the unfortunate result is that all the built-up tension dissipates.
"Mr. Jones" does have its moments, however, especially in the first half of the movie. It's a different kind of found footage horror movie, where its originality might either make or break the viewing experience for you.
Fun fact: the scarecrows in this movie were made by an artist called "Pumpkinrot", who's making some really cool Halloween decorations.

Director: Karl Mueller
Country & year: USA, 2013
Actors: Jon Foster, Sarah Jones, Mark Steger, Faran Tahir, Stanley B. Herman, Ethan Sawyer, Jordan Byrne
IMDb: www.imdb.com/title/tt2507280/