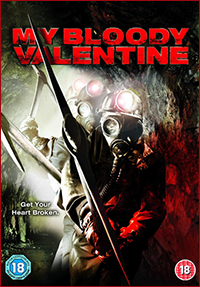 In the small mine town community of Harmony, a young coal miner named Tom (Jensen Ackles) causes an accident that kills five men and puts another, Harry Warden, in a coma. A year later, Harry wakes up and causes a massacre at the hospital, and in the meantime a group of teens are having a party at mine tunnel 5, one of them being Tom. Harry shows up and causing further bloodshed, but the police does not succeed in catching the killer…
Ten years later, the mining town has gotten the unfortunate title "The Murder Capital of America" by the media, while they are still trying to move on from the past. Tom, who is pretty much not welcomed by most of the townspeople, happens to stop by to sign some papers to sell the mining tunnel where the killings took place. Bad news is that the signing has been postponed to Monday, so Tom has some time to kill (pun intended) before he leaves the town for good. After Tom checks into a motel, the killings start to happen again by a certain familiar figure wearing a gas mask.
"My Bloody Valentine" is the remake of the 1981 version, here with Jensen Ackles (or just Dean Winchester, if you will)  in the main role. And it's pretty much like watching Ackles just playing Dean having a really bad weekend with a reduced energy level. The Kiefer Sutherland effect, as I like to call it.
I don't know if this is the same version that got screened in theaters back in 2009, but if so, the "Friday The 13th" remake which came same year looks like a kiddies movie made for Disney in comparison. A funny coincidence is that Jared Padalecki, known as Dean's brother in "Supernatural", also had a role in the Friday remake. As if they made a bet on which movie that would turn out to be the goriest. Well, Sammy, I guess you owe Dean a drink.
This was also the first 3D film with an R-rating, and it clearly shows. Heads are being chopped off, torsos cut in half, hearts ripped out, and whatnot. There's also a scene where a midget lady gets impaled by a picksaw. No mercy given. And of course, there's no slasher without a hot chick being chased while she's stark naked. Some of the 3D effects looks pretty silly without the glasses, though, but it's still a an entertaining slasher with some great death scenes.

Director: Patrick Lussier
Country & year: USA, 2009
Actors: Jensen Ackles, Jaime King, Kerr Smith, Betsy Rue, Edi Gathegi, Tom Atkins, Kevin Tighe, Megan Boone, Karen Baum, Joy de la Paz, Marc Macaulay, Todd Farmer, Jeff Hochendoner, Bingo O'Malley, Liam Rhodes
IMDb: //www.imdb.com/title/tt1179891/