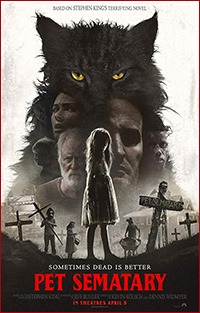 Dr. Louis Creed and his family have decided to move away from Boston and settle down in rural Maine in order to live a more quiet life, and give Louis more time with his family: Rachel, his wife, Ellie, his daughter, and Gage, his young son. Their new home seem to be peaceful and nice…except for the highway being located right outside where heavy trucks keep roaring by all the time. They soon discover a pet cemetery close by (where a lot of the pets have been victims of said trucks), where children have buried their beloved pets for a long time. The place holds a power that is by no means good, however, something the Creed family is about to discover in the most horrible way.
"Pet Sematary" is one of Stephen King's most famous novels, and is actually based on his own close encounter with a truck nearly killing his own son. He got the inspiration after his time at the University of Maine at Orono, where he was teaching for a year as a gesture of gratitude for the education he had received there. During that time, he and his family rented a house near a busy road who had claimed the lives of numerous pets in the neighborhood, and the children there had created a pet cemetery near the house King and his family rented. They also had a cat at the time: Smucky. Unfortunately, Smucky became one of that road's victims, and King's daughter Naomi buried it in that pet cemetery. Shortly thereafter, King's son Owen had a close call running toward the road. All of this gave him the inspiration for this novel, but after writing it he felt he had gone too far with the subject matter and discarded the idea of having it published. However, since he needed to publish a final book for his contract, he reluctantly submitted it to Doubleday. And of course, it became an immediate success.
Now, for those of us that have read the book and seen the first movie adaption, it's hard not to make comparisons. There are quite a few things that have been changed completely here. The first adaption from 1989 actually follows the book more closely than this one, but at the same time I also think that this new adaption captures the dark and tragic tone a lot better, as it is a story that deals with something that all of us know but always dread to think or talk about: the death of loved ones, and how far we would be willing to go if we could reverse it.
I was also quite curious about how they would depict Zelda (Rachel's sister), who was slowly dying in a horrible and painful way from spinal meningitis while turning into a hideous "monster" (and, since the illness turned her clinically insane, also made her bitter and mean towards Rachel), and this has given Rachel PTSD-like symptoms. I actually think Zelda is one of the creepiest parts of the whole story, and it also plays a major factor over explaining why Rachel is struggling so much with everything that's got to do with death. While there has been some changes regarding Zelda's death in this movie, I actually think that the book's version of Zelda's demise was better…but yeah, I know why they did it, as it gave them a perfect setting to make some creepy scenes and jump-scares.
Overall, this new movie adaption of Stephen King's "Pet Sematary" is a well made horror movie, and despite some differences it manages to capture a lot of the original feelings of dread from the book, while also leaving enough space for both movie adaptions to exist on their own.

Directors: Kevin Kölsch, Dennis Widmyer
Country & year: USA, 2019
Actors: Jason Clarke, Amy Seimetz, John Lithgow, Jeté Laurence, Hugo Lavoie, Lucas Lavoie, Obssa Ahmed, Alyssa Brooke Levine, Maria Herrera, Frank Schorpion, Linda E. Smith, Sonia Maria Chirila
IMDb: www.imdb.com/title/tt0837563/