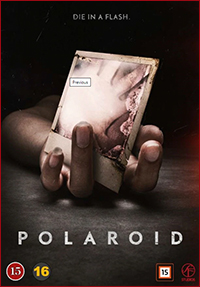 Bird Fitcher is a teenage girl who loves old things, and is working a part-time job at an antique store. When a co-worker brings in an old Polaroid camera, she's really excited, and starts using it, snapping pictures of her friends. She soon realizes that something is not quite right with the camera, as the photos show a shadowy figure looming over the persons on the photo…and very soon it becomes apparent that the photos taken with the Polaroid camera has a very deadly effect.
This is based on Lars Klevberg's horror short from 2015, by the same name (you can watch it here: Polaroid Horror Short). And while this movie has been released just recently, it's not really new…it was originally set to be released in 2017, but due to the Weinstein Company bankruptcy it was almost like the entire movie had been flushed down the drain as a result. However, in 2018, Lantern Company (which had acquired a lot of the Weinstein Company's assets) and an international distribution company called "13 Films" decided to have the movie released in 2019. In the meantime, however, Lars Klevberg more or less "debuted" with his Child's Play remake, which received a fair amount of positive reception as well as doing quite well at the box office. So…a happy ending after all, it seems.
Now, while I personally think that Lars Klevberg's Polaroid short is well made and quite creepy, I'm afraid to say that I didn't quite get the same feeling from this feature film. Now, horror shorts have the advantage of keeping things subtle, and not necessarily giving away the "why's" and "how's". This is something that often gives them a more creepy vibe since the mystery is kept, the boogeyman isn't revealed and is kept in the shadows. In feature films, however, viewers are more likely to be pissed off by things being too vague or questions not being answered…in movies, as opposed to shorts, we more or less expect answers to what is happening. And sadly, this is what can turn a creepy concept into something that ends up more or less like a typical "run-of-the-mill" horror movie. Unfortunately, Polaroid does end up in this category.
That being said, Lars Klevberg does manage to build up the tension and atmosphere in some of the scenes, and while lacking any real scares I'm going to judge it as what it's clearly intended to be: a teenage horror flick, meant for a younger audience. Those of us that have already seen a fair share of horror movies will probably get a Déjà vu all to quickly (we've seen it before, done better…but also done a lot worse). When getting closer to the final act, the film also does offer up an interesting twist to the Polaroid's reason for being cursed/haunted, which was a welcome surprise.
So: just consider this movie an easy-going teenage horror, and bring some popcorn, and you might find something to enjoy here.

Director: Lars Klevberg
Country & year: USA | Norway, 2019
Actors: Kathryn Prescott, Tyler Young, Samantha Logan, Keenan Tracey, Priscilla Quintana, Javier Botet, Mitch Pileggi, Davi Santos, Katie Stevens, Grace Zabriskie, Madelaine Petsch, Erika Prevost, Shauna MacDonald, Rhys Bevan-John, Emily Power
IMDb: www.imdb.com/title/tt5598292/