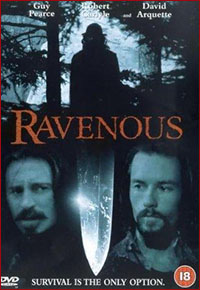 During the Mexican-American war in the mid 1800's, Captain John Boyd is sent up in the mountains to Fort Spencer, a secluded camp where a small group of weirdos keeps it guarded. One evening a disturbed, frozen Scottish man named Colquhoun arrives. He tells a horrible story about his gang of people somewhere up in the mountains, who were forced to eat each other in order to survive. Some of the men join Colquhoun and head up to the mountains to look for survivors.
The movie's tone is set already within its first seconds. You don't exactly know what to expect, but will quickly realise that this film is one of a kind. The film is known for its black humour, but it is first and foremost a pure horror movie with blood n' gore where the humour is kept on a more subtle level. The greatest thing about Ravenous is how unpredictable it is, how the tension builds up, and the use of great forest landscapes that adds to the grim, cold atmosphere. It's always refreshing to see actors actually interact with the real nature instead of standing in front of green-screens in a studio, isn't it…
It also have top notch actors, but Robert Carlyle as Colquhoun really steals the show here. He does a truly terrifying portrait of his character. Watching his grin with the blood dripping from his mouth as he stares with his crazy eyes…that's something that just gets under your skin (pun intended).

Director: Antonia Bird
Country & year:  Czech Republic | UK | USA | Mexico, 1999
Actors: Guy Pearce, Robert Carlyle, David Arquette, Jeremy Davies, Jeffrey Jones, John Spencer, Stephen Spinella, Neal McDonough
IMDb: www.imdb.com/title/tt0129332/