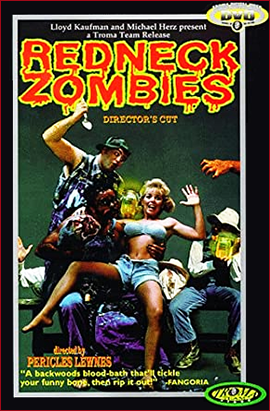 Redneck Zombies is probably most known for being one of the first films that was shot entirely on videotape (VHS) and released direct-to-video. Combined with that the film was shot on video and the result being what it is: a complete trashy home-made schlockfest with amateur actors and a script that seems to have been scribbled on toilet paper as they went along, didn't impress the distributors very much. They basically told director Pericles Lewnes to fuck off, and after having enough rounds of rejections, he finally decided to try his luck with Troma – which is pretty odd he didn't do in the first place since Redneck Zombies feels like pure Troma from start to finish, and just the title itself could probably give Lloyd Kaufman an instant hard-on. Most of Troma's trademarks are all over the place: the outlandish over-the-top looney tunes acting with dialogues that are so stupid you'll lose some braincells while watching, a demented plot which makes no sense, blood, greasy gore, puke, and I wish I could say tits. Whatever.
The plot goes something like this: It's a regular day in the middle of redneck-nowhere in 'Merica where the soldier Tyrone is transporting a barrel full of toxic waste. As he drives along the bumpy hillroad, smokes a joint and talks shit to his passenger dog, the barrel suddenly rolls off the jeep and further down a valley. The valley of redneck Hell no-go zone that is. When he tries to retrieve it, he immediately gets gunpointed by Ferd, a redneck slob who wants the barrel, since it already trespassed on his "land". After Ferd scares him away with a warning shot, in true second amendment-style, he trades the barrel with a clan of imbecile inbreds who mixes the waste with moonshine and starts to drink the damn thing like there's no tomorrow. And you can't in a million years guess what happens next … the liquid turns them into zombies. Who could possibly know. But they are not some  regular zombies, no-no, they're REDNECK zombies! Good lord.
At the same time, a group of city slickers are camping nearby, which seem to have the same level of IQ as the rednecks, or they are just as bad actors. The only thing that differentiates the rednecks from the "civilized people", to use that word loosely, is really the dress code. And to no surprise they eventually stumbles upon the redneck zombies and a lot of weird, retarded, crazy shit happens. I can mention the scene where the rednecks start to drink the waste and the TV screen goes into a full psychedelic acid-trip, and the effects are just horrendous.
While the plot seems seemingly straightforward, the film throws in a lot of random filler scenes that gives us some nuggets of what the heartland has to offer, and to give a more authentic impression of the redneck community. Here we learn that The Elephant Man himself is still alive and well, but still covering his head with a burlap sack with one hole in it to peek through. The rednecks calls him Tobacco Man, since he sells tobaccos from his vendor van. He's also some kind of a prophet which the rednecks worships, and rambles some weird, crazy nonsense with a dark baritone voice.
There's also a complete random parody of the hitchhiker scene from Texas Chain Saw Massacre. Well, why not. And we get some scenes of a redneck lady with her beloved Perky the Pig, where she promises him that he won't end up as bacon. When we thought we've seen it all in redneck hell, we jump right into a scene where two dudes are watching chickens getting slaughtered on TV, and who have a girl in the living-room, wrapped in duct tape. Of course. There's some scenes that are shot like it was a sitcom where the only thing missing is fake laugh tracks. This film has some serious symptoms of schizophrenia, and I believe even Dr. Phil would agree on that.
The gore delivers, for the most part, at least. Heads are being scalped, beheaded with a shovel and crushed with bare hands, eyes gouged out, limbs ripped apart and so on. It's juicy, greasy and at times, a little gruesome. Some looks cheap, others looks almost too competent for a film like this. It's also hilarious that the zombie make-up was made by cornflakes. Yes, really.  My final verdict? Get drunk, pretend to be a young teenager and you'll probably have a blast with this one.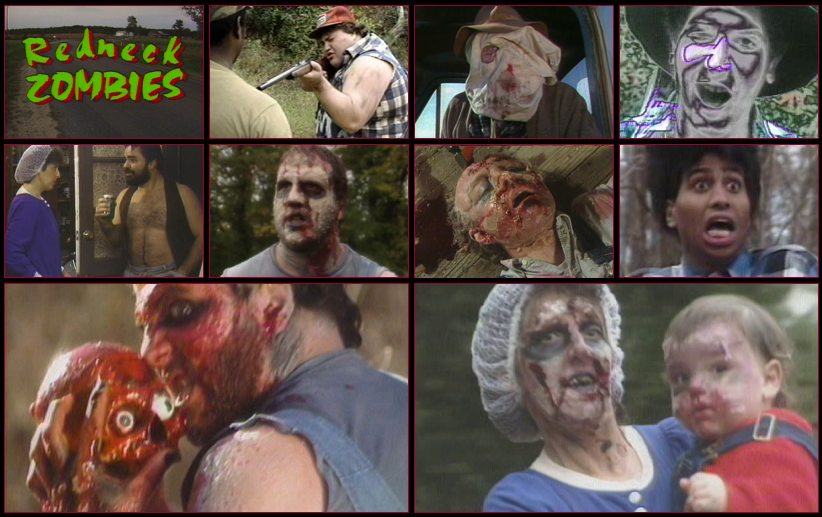 Director: Pericles Lewnes
Country & year: USA, 1989
Actors: Steve Sooy, Anthony M. Carr, Ken Davis, Stan Morrow, Brent Thurston-Rogers, Lisa M. DeHaven, Tyrone Taylor, Anthony Burlington-Smith, James H. Housely, Martin J. Wolfman, Boo Teasedale, Darla Deans
IMDb: www.imdb.com/title/tt0093833/