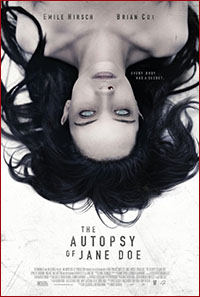 A father and a son who are running a coroner business from their own home, need to identify the body of a young woman who was found in a house full of brutally murdered bodies. The other bodies were that of the family living in the house…but in the basement, the police found the half-buried corpse of that young woman. The corpse is pristine, there isn't even a scratch on her or any blood. As the old saying goes, however: looks can be deceiving…
When they start their "work" on her (and if you are queasy when it comes to body horror, you'll probably be squirming in your seat while watching it) they soon find out that the girl appears to have been through extreme torture before she died. Her tongue has been cut out, one of her teeth are missing, and from the inside it appears that she's been burned…but still, her outside is intact, like if nothing ever happened to her. The girl harbors a dark secret, however, and soon weird shit starts to happen.
«The Autopsy of Jane Doe», directed by norwegian André Øvredal (known for «Troll Hunter», aka «Trolljegeren»), has given us a really atmospheric and creepy film that easily manages to get under your skin. There are several scenes that are outright bone-chilling. Well recommended if you enjoy dark psychological horror movies.

Director: André Øvredal
Country & year: UK / USA, 2016
Actors: Brian Cox, Emile Hirsch, Ophelia Lovibond, Michael McElhatton, Olwen Catherine Kelly
IMDb: www.imdb.com/title/tt3289956/