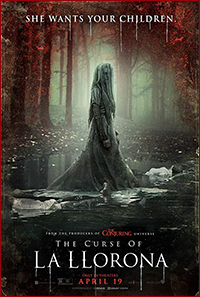 We're in the 1970's Los Angeles. Anna, a social worker who's now alone with her two children after her husband's death, is at the risk of having some of her cases handed over to her co-worker, one of them being the case of Patricia Alvarez and her two boys. She demands to get the rights back to this case and arrives at Patricia's house to check on her, only to find out she's locked her children in a closet, and the boys have strange burn-marks on their arms. The boys are immediately taken away, but that soon proves to have sealed those children's fate. Finding them both dead in the river the same night, Patricia puts the blame on her children's deaths on Anna, claiming it's her fault that La Llorona managed to get them. And then, Anna and her own to children are about to figure out that the curse of La Llorona is more than a simple folktale…
La Llorona, also called "The Weeping Woman", is a Mexican folktale that traces back to the 1800's. It's the story of the ghost of a woman who drowned her own children, and after committing the horrible deed ended up drowning herself in the same river, and her spirit wanders around, crying while searching for her children. There are several variations of the folktale, but it's one that's been scaring the children of many Spanish-speaking families for generations: be good and don't wander around at night, or La Llorona will come and get you.
Director Michael Chaves is making his feature debut with this film (he's previously known for his horror short "The Maiden"). He is also listed on IMDb as the director for the upcoming "Conjuring 3", and "The Curse of La Llorona" actually has connections to the Conjuring universe as well. With this being said, it's a given that you can expect some of the same formula used in the movies from this universe, and it does feel like it's at home here. Unfortunately, it's a bit too much of what we have already seen numerous times, and while scares are a-plenty, and there are a few scenes that does manage to build up some good tension and atmosphere before La Llorona jumps into the screen, many of the scenes are quite basic and serves for little more than making you jump in your seat (or, if you've seen enough horror movies over the years, know that the jump-scare is coming, but you're not budging even a millimeter from your chair because you've gotten so used to them).
While it may feel "unfair" to compare "The Curse of La Llorona" to the rest of the films from the Conjuring-universe, it has put itself in that position since it's making some very clear references in the movie that it does, indeed, belong here. It's not the best installment in the series, but not the worst either. And if you're familiar with the old folktale of La Llorona, you might find it interesting to see her appearance in the Conjuring-universe.

Director: Michael Chaves
Country & year: USA, 2019
Actors: Linda Cardellini, Roman Christou, Jaynee-Lynne Kinchen, Raymond Cruz, Marisol Ramirez, Patricia Velasquez, Sean Patrick Thomas, Tony Amendola
IMDb: www.imdb.com/title/tt4913966/

Related post: Annabelle Comes Home (2019) | The Conjuring: The Devil Made Me Do It (2021)