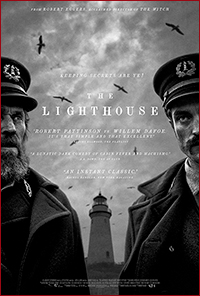 On a remote New England Island in the 1890s, two lighthouse keepers have to stay there for four weeks. Thomas Wake, the oldest between the two, has been watching over the lighthouse for a long time and is used to the unfavorable conditions. His new assistant, Ephraim Winslow, does not settle in with ease however. Ephraim is getting more and more frustrated by the older man's fussing and complaints, where he is being bossed around constantly. When the four weeks are over, and the boat still doesn't come to pick up Ephraim due to very bad weather, they both realize they might be stuck on the island for far longer than anticipated. Plagued by bad dreams and hallucinations (or are they hallucinations?) Ephraim tries to keep his sanity on the forsaken rock – but this proves to be difficult as deeply sunken secrets are about to break the surface.
The Lighthouse by Robert Eggers (who earlier gave us the very haunting and creepy film The Witch) is a very atmospheric black & white film, and is actually loosely based on a real-life tragedy that happened in 1801. Two Welsh Lighthouse keepers, who were in fact both named Thomas, became trapped due to a storm. That incident is referred to as The Smalls Lighthouse Tragedy. The movie was also shot on 35mm black and white Double-X 5222 film, and due to this, they needed a lot more light, so they put up flickering 500-800 watt halogen bulbs in period-correct kerosene lamps. These lamps were just a few feet away from the actor's faces, so the result is a lot of imagery that simply looks stunning, especially with the facial expressions and grimaces being heavily toned due to the contrasts. Plain and simple, it is beautiful to watch.
There is a good amount of claustrophobic dread to appreciate from The Lighthouse. And with Ephraim's dreams and visions (or are they all just dreams and visions?) with mermaids and giant tentacles, we get a dose of some of the old and classical myths and legends from sea folk. Thomas tells supernatural tales of sea gulls and bad omens, but while Ephraim tries to ignore the old man's ramblings, it's evident that there are certain things laying under the surface that causes him to become vulnerable to the tales. It doesn't take long before Ephraim is slowly descending into madness…whether it be from the isolation, Thomas and his bossy demeanor and tales, the past…or maybe a mix of it all, who knows. When the men realize they are stranded, possibly for a long time to come, they both start drinking their senses away, somewhat easing up the tension for a little while as the drunken men starts dancing and singing sea shanties – but it doesn't take long until the songs turn into insults and aggressive behavior, and a battle for dominance as the cabin fever starts to creep in.
"Nothing good can happen when two men are trapped alone in a giant phallus", is the line Robert Eggers have used to describe this film. And he has done a very good job of portraying just this concept!

Director: Robert Eggers
Country & year: Canada | USA, 2019
Actors: Robert Pattinson, Willem Dafoe, Valeriia Karaman, Logan Hawkes, and a lot of sea gulls
IMDb: www.imdb.com/title/tt7984734/