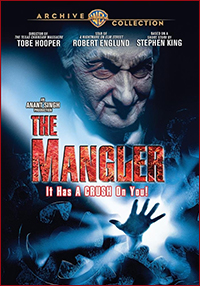 It's a regular day at the Blue Ribbon Laundry service, run by the tyrant Bill Gartley (Robert Englund), where the employees are almost treated like worthless slaves under horrendous working conditions. One of the workers, Sherry, cuts her hand on a clamp connected to the laundry press, causing her to spill some blood over the machine. This somehow awakens a demonic force inside the the mangler. Yes, we're talking about a demon-possessed laundry machine (!) It goes from bad to worse when one of the elderly workers drops her pills on the mangler, and tries to collect them. Bad idea. Her hand is getting trapped by the machine, and her entire body is rolled into the mangler and spews her out like a big pile of shit. What a way to go. It's one of those scenes where someone makes so incredibly dumb decisions that you just can't feel sorry for them. But yummy for the mangler, I guess.
Mulder and Scully is apparently unavailable, so the police officer John Hunton (Ted "Buffalo Bill" Levine), a bitter, burned out shell of a man who eats pills like it's candy and clearly has his head filled with his own demons, is set to investigate. Some local inspectors views it as a glitch of the safety features and closes the case as a "work accident". But Hunton gets instantly traumatized by the sight of what's left of the mangled woman, and he's just pissed that the machine is still running. And the day isn't even over before another accident happens. Hunton's brother-in-law is convinced that the machine is possessed, and after the demonic forces spread to the local town and possesses a refrigerator (yes, really) that then suffocates a kid, it's time to find out what the hell is really going on on Gartley's Laundry service.
The Mangler is based on a short story by Stephen King, inspired by his own experience from working in an industrial laundry service before he became a full-time writer. If the working conditions were as horrid and dreadful as in the story, it's no wonder the setting inspired him to write a horror story. The highlight in this movie is clearly Robert Englund as the deranged owner of the laundry, Bill Gartley. He looks like an over-the-top cartoon villain with hidden, delusional desires to conquer the world. He gives it all, with the impression that he was just happy and excited to finally play a whole different villain than Freddy Krueger, and he owns every scene he's in. Director Tobe Hooper didn't sleepwalk through this movie, and it's a clear big step up after the complete dumpster fire Night Terrors that he made two years earlier.
The Mangler came and went in 1995, butchered by critics, flopped at the box office, and was the last movie with wide theatrical release from Tobe Hooper before his crumbling career went completely downhill. What a shame. Rest in peace. This is not a masterpiece by any means, and with a premise like this where a laundry machine is demon-possessed, it's a story that probably works best on paper. Still, this could have been so much worse. The film has a great level of energy, great performances by Robert Englund and Ted Levine, a lot of cheesy fun, gory and blood-spattering scenes, and a completely wild bat shit-crazy ending that shows us it doesn't give a fuck. Despite the negative reception, two direct-to-video sequels were made, The Mangler 2 (2002) with Lance Henriksen getting possessed by a computer virus, and the unofficial sequel The Mangler Reborn (2005).

Director: Tobe Hooper
Country & year: South Africa | UK, 1995
Actors: Robert Englund, Ted Levine, Daniel Matmor, Jeremy Crutchley, Vanessa Pike, Demetre Phillips, Lisa Morris, Vera Blacker, Ashley Hayden, Danny Keogh, Danny Keogh, Todd Jensen, Sean Taylor, Gerrit Schoonhoven, Nan Hamilton
IMDb: www.imdb.com/title/tt0113762/