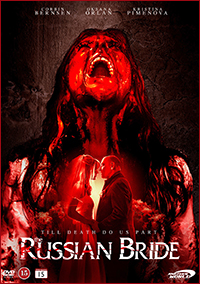 Nina is a Russian woman, who lives together with her young daughter Sasha. She has left her abusive and alcoholic husband, but he still causes trouble for her by coming to her home drunk and demanding to come inside and see his daughter. All Nina wants is a new and better life for herself and Sasha, and after joining a typical "Russian brides" website (dating website for people looking for a Russian woman) she gets in contact with a reclusive billionaire from USA. After traveling abroad to meet her new man, she marries him very soon thereafter. However, she soon finds out that the seemingly nice man has other motives…and Nina eventually realizes that she's put both herself and her daughter in a dangerous position.
Those typical "Russian Brides" dating websites is nothing new, and have existed for quite a while. No matter how you may want to label the women using such websites – "gold diggers" or simply someone wanting a better life for themselves – this movie portrays a woman belonging to the latter category. We understand Nina's desperate need to move away from her stalking and abusive ex, and a rich and gentle elderly man from another country seems like her perfect escape. What could possibly go wrong, right? Well…
The story builds up rather nicely, and you see early on that Nina's new husband has ulterior motives. Since his spacious mansion is also located in a very isolated area, you can feel the overwhelming amount of helplessness that she's going through, in an other country and no means of escape. Nina and her daughter Sasha are surrounded by snow and nothingness, and solely dependent on her new husband that shows more and more signs of not necessarily having their well-being in his best interest.
The suspense in The Russian Bride builds towards what we surely expect to be a great reveal and a bloody climax (at least, based on the DVD cover which isn't exactly toning down on its promise of a certain amount of blood 'n gore). And we get both, although I would have to admit I think they could've stretched it even a bit further as blood 'n gore goes. There's room for a lot more than what was given us, but still makes it earn its "Gore" badge.
The Russian Bride is an okay horror thriller, although it may be worth noting that despite the bloody cover, this kind of stuff is held back for the climax and is not meant to be part of the main focus of the film (so gorehounds may want to sniff around elsewhere). Now, the film does come off as a bit predictable (we know the guy is up to something, we just don't know what), and it also feels a bit inconsistent with a few things, like a certain paranormal entity that doesn't really provide much to the film except sugarcoating the end a bit and functioning as a deus ex machina. However, it's entertaining enough and well worth a watch, despite some flaws.
Director: Michael S. Ojeda
Country & year: USA, 2019
Actors: Corbin Bernsen, Oksana Orlan, Oksana Orlan, Lisa Goodman, Michael Robert Brandon, Alison Korman, Yefim Somin, Gregory O'Gallagher, Keenan Johnston, John Paul Brandt, Clement Valentine, Kenneth G. Beaudin, Maryanne Nagel, Blake Brown, Guido Den Broeder
IMDb: www.imdb.com/title/tt6214468/