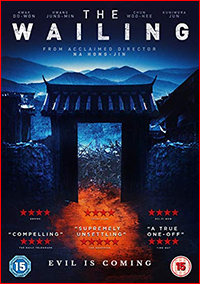 Jong-Goo is a police officer that lives a quiet life in a little village with his wife and daughter. One day he is called to the scene of a gruesome multiple murder case, where a family member of the murdered people is covered in blood from the victims. His skin is covered in strange boils, and he appears to be in a state of stupor. Soon, more incidents similar to this occur all over the little village, and some of the villagers start to blame a newcomer to the area: a Japanese man (played by Jun Kunimura, known for his roles in "Ichi The Killer", "Audition" and "Kill Bill") who's taken residence in the woods. Jong-Goo starts a battle against time to figure out what is happening, as his daughter also starts showing the symptoms.
"The Wailing" is a Korean horror movie that lasts for 2 hours and 36 minutes, but thanks to great cinematography and some really weird and strangely entertaining scenes, it manages to spend its time well without becoming a hassle to watch through. It's quite beautiful to watch with its misty mountains and forest locations. The story's pacing is good enough, we are being told things gradually while still pondering about the mystery behind the murders and "possessions", and the Japanese newcomer (is he really the bad guy here, or is something else going on?).
There are some comedy elements in the movie (which was for the most part intended, I think), especially an exorcism scene that is so dragged-out and insane that it actually gets oddly hilarious. The protagonist's facial and emotional reactions are almost cartoony sometimes, and the mix of being dark and vicious with being so colorful and sometimes comedic makes it a pretty weird watch. The story keeps you guessing throughout the entire movie, until the ending reveals the true villain in its full form.

Director: Hong-jin Na
Country & year: South Korea | USA, 2016
Actors: Do-won Kwak, Jung-min Hwang, Jun Kunimura, Woo-hee Chun, Hwan-hee Kim, Jin Heo, So-yeon Jang, Do-yoon Kim, Kang-gook Son
IMDb: www.imdb.com/title/tt5215952/