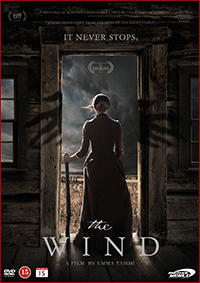 Lizzy Macklin and her husband Isaac lives isolated on a harsh and untamed land in the Western frontier in the late 1800s. Soon, a newlywed couple (Emma and Gideon) moves into a house close by. The isolation starts cracking Emma's psyche, causing her to suffer from Prairie Madness (an affliction that causes a mental breakdown due to the isolation and harsh living conditions, something that would happen to European settlers who were not used to living like this). Emma is clearly not able to get used the the isolation, and starts raving about "demons of the prairie". Emma's madness soon starts affecting Lizzy as well, and she starts wondering if there really is an evil demonic presence out to destroy them.
The Wind is a western horror-thriller written by Teresa Sutherland, and director Emma Tabbi's feature film debut. Western horror is still a somewhat rare thing to come by, where most horror movies in this genre belongs to the "lesser known" list (probably with the exception of Bone Tomahawk from 2015, which managed to get a fair amount of publicity). And this is despite the setting of the western period being pretty perfect for all kinds of horror-related ideas…but oh well.
Now, The Wind is a movie that focuses more on psychological horror and a fair amount of relationship-based drama, and for this reason it's chugging along rather slowly. In other words, it's very likely to not keep everyone's attention, and the suspense it's trying to build is somewhat subtle and does not always matches the pace. The movie has a strong and chilling start, but then starts jumping back and forth in time to show us a series of recent scenes and "flashback" scenes. A lot of the story is told through flashbacks, and sometimes it can actually be a little confusing to follow.
All that being said, The Wind is beautiful to watch with some great cinematography, and there's definitely some atmosphere to appreciate. Still, there could have been a lot more actual horror to The Wind…but if you're in for a slow horror mystery with a bit more drama than chills, you'll likely find something to enjoy here.

Director: Emma Tammi
Country & year: USA, 2018
Actors: Caitlin Gerard, Julia Goldani Telles, Ashley Zukerman, Miles Anderson, Dylan McTee, Martin C Patterson
IMDb: www.imdb.com/title/tt8426594/