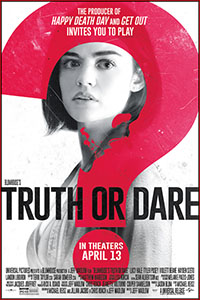 While on a partying trip to Mexico, a group of young friends meet a guy who wants them to join him for a game of "Truth or Dare" in an old abandoned church. What starts out as an innocent game, soon turns deadly when they realize they've been tricked into an evil demon's version of the game. If you fail to answer truthfully on the demon's "truth" questions, or refuse to commit its "dares", the consequence is a quick and painful death.
Yes, you know this is going to be silly as hell. When I saw the trailer for this movie, I actually decided to skip watching it on the big screen. I normally watch most horror movies that comes out in the cinema, but the incredibly silly "demonic faces" the trailer showed off all the time made it somewhat cringeworthy. Thank goodness for streaming services like Netflix and SF Anytime.
Watching this movie in the comforts of home, I have to admit that I didn't find it as bad as I had expected it to be. Silly concept/plot? Yeah, sure. The chesire-cat grins of the demonic faces didn't bother me as much as I had feared, and I found myself entertained enough. These days, I never expect a movie to be able to scare me anyway (after watching so many horror movies, I'm afraid those days are long gone). The movie goes forward just like you'd expect a movie of this kind to do: young sexy people need to battle the supernatural force while being killed off in various ways, one by one, until (after enough of them have been killed off), the remaining ones need to dig deeper into finding a way to solve the "mystery" behind the deadly game and how to escape from it alive. Yes, you've pretty much seen it before…it's a tried a tired formula that every horror movie fan has seen numerous times already, but who cares about that as long as it works to entertain you. Every new movie release doesn't need to bring a brand new dish to the table in order to be watchable.
Overall, "Truth or Dare" is an easy-going horrorflick to watch on a rainy evening with some pizza and beer. It's not a masterpiece, but certainly delivers if you're in the mood for some silly fun.

Director: Jeff Wadlow
Country & year: USA, 2018
Actors: Lucy Hale, Tyler Posey, Violett Beane, Hayden Szeto, Sophia Ali, Nolan Gerard Funk, Landon Liboiron, Sam Lerner, Tom Choi
IMDb: www.imdb.com/title/tt0099611/