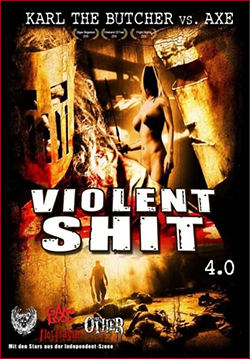 Less Violence – more Shit.
Karl the Butcher has been dead for 25 years, and now spends his time in Hell, chained to a chair in a dark room. He gets a message from Satan that he has to go back to Earth to kill a new potential Butcher (known as Axe). "Make a wish", Satan says. Karl wants his mask back. A naked blond chick gives him his mask whom he then rips the head off, before he resurrects on the surface. Of course, what else did you expect?
It's now the year 2023 and world has become an apocalyptic wasteland which has been split into gang communities. Among them, we get the pleasure to meet the female trinity gang led by the complete unfunny nutcase Queen Scara, who captures and ties up men, attaches their dick to a tube connected to a "sperminator" that drains them from sperm (of course) which Scara drinks while she gives the worst and obnoxious performances I have probably ever seen from a woman. It's actually so bad in the most painfully cringy way possible that the witch from Troll 2 is Oscar worthy in comparison. The two other ladies, and rest of the cast for that matter are just as awful, but Scara really sticks out, and this trinity gang has a lot of unnecessary screen time with scenes that really drags on and on. I didn't even chuckle once, and it's obvious that they act bad on purpose. It looks like something you would see on a bad unintentionally unfunny YouTube film/skit.
Where was I… as soon as Karl the Butcher (played by Andreas Schnaas as usual) emerges to planet Earth, he wastes no time to hunt for Axe and other victims. He kills a random naked chick with some really big, solid boobies before he enters one of the gang communities. The word that Karl the Butcher is back from Hell spreads fast, and the female trinity and some other gangs comes to hunt him down. And yeah, who's this Axe person, you may ask. He's just some dude who lives with his lady in the woods (played by co-director Timo Rose). He also wears a mask and has a funny-looking axe which looks like a cheap Halloween prop from some Walmart discount bin, and there's nothing interesting about him. When he finally stumbles upon Karl, the whole premise takes an unexpected turn when The Butcher and Axe rather decides to team up and become buddies, when they realize that the gangs is out to kill them both.
It took two long decades before Andreas Schnaas finally gave us the not-so long anticipated Violent Shit 4: Karl The Butcher vs Axe, co-written and co-directed with Timo Rose. And I have to say I was a bit curios to see what two directors would come up with in the so far final chapter in the Violent Shit series. And it still looks like shit, as it's probably meant to be, with overall inept directing, and still amateur hour all way through. The biggest sin here is that it's mostly boring. It's also the least violent of them all where it's too far between the killing scenes, or the Violent Shit, if you will. Instead we get less Violence and more Shit with yawn-inducing and terribly written dialogue scenes where the "actors" seem to be bored out of their minds.
The film isn't completely hopeless, though. It has it's Snchnaas trademark moments with limbs getting ripped apart, static close-ups of beheading, castrations, bad choreographed fighting scenes with goofy, cartoonish sound effects, and of course some fresh nudity. It's nothing new to see, but better than nothing, I guess. The final act is the most entertaining part with gunfights, silly video game-style fights, and of course when Karl the Butcher drinks some green liquid and becomes the Super Butcher, just like Super Shredder from Turtles 2. And his jacket-up bicep-costume looks something like this. Yes, really.
And of you still haven't gotten enough Violent Shit and the murderous adventures of Karl the Butcher, there actually exists an Italian remake from 2015 of the first film, called Violent Shit: The Movie.
Violent Shit 4: Karl the Butcher vs Axe is available on DVD from Synapse Films.



Directors: Timo Rose, Andreas Schnaas
Country & year: Germany, 2010
Actors: Andreas Schnaas, Timo Rose, Magdalèna Kalley, Eileen Daly, Eleanor James, Marysia Kay, Marc Rohnstock, Mario Zimmerschitt, Marc Trinkhaus, Timo Fuchs
IMDb: www.imdb.com/title/tt1517076/

Related posts: Violent Shit (1989) | Violent Shit II (1992) | Violent Shit III: Infantry of Doom (1999)