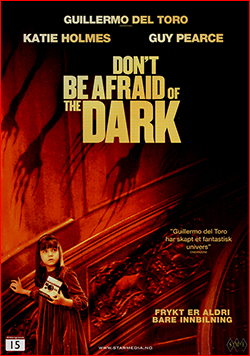 Lord Emerson Blackwood is a renowned 19th century wildlife painter, who lives in a huge manor called Blackwood Manor. One day, he bludgeons his housekeeper to death in the basement, and afterwards he removes her teeth. Not only that, he also removes his own teeth…and offers them as some kind of sacrifice to a bunch of mysterious creatures living inside the old fireplace, who has kidnapped his son. The creatures reject his offer, and tell him that they only want the teeth of children. And then, just like his son, he also gets dragged in by the creatures. Fast forward to present day, we meet 8-year old Sally who moves into Blackwood Manor with her father Alex and his girlfriend Kim. They want to restore the old manor for a client, to have it put on the market for sale. Very soon Sally gets to hear and see glimpses of the teeth-craving creatures, who are eager to finally get some of those children's teeth they want…
Don't Be Afraid of the Dark is a supernatural horror film from 2010, directed by Troy Nixey as his feature directorial debut, and written by Guillermo del Toro and Matthew Robbins. It is a remake of the 1973 ABC made-for-TV film of the same name. In the original Sally was the wife of Alex, not his daughter, but this change kind of fits well for the more apparent fantasy-theme this remake has been given. And yes: obviously, it has Guillermo del Toro's fingerprints all over it.
With the movie's opening there isn't much of a mystery plot going on, as we already know that there are some creatures living in the house which craves for human teeth, or specifically those from children. Thus, we already know the mansion is infested with ghoulish tooth fairies. We do find out a little bit more about them as the mansion reveals some of Lord Emerson's secrets, which includes some of this paintings. Despite a lack of actual mystery, the atmosphere is one of the focal points in the film, blending the gothic mansion interior and exterior with the fantasy aspects and making it spookily fun. As for the monsters themselves, they're…well, not exactly very impressive. They're the standard CGI fantasy creature, fitting in a fantasy plot more than a horror one I guess.
Now, the original from 1973 is by many deemed a classic, and it appears to have given lots of kids the willies when they saw the movie sometime in the 70's, and according to del Toro it also gave him quite a fright when he watched it as a child. A remake is bound to not have the same effect, especially when also changing the perspective from a grown woman to that of a child. It works pretty well, but it does of course change the tone of the story quite much. And since Guillermo del Toro was involved in this, I guess that there were also some people expecting a new Pan's Labyrinth or something, which it is definitely not. It's a typical movie that plays primarily on childhood fears, mixing in some bits from the world of mythology and turns it into something sinister, but not as dark as what can be seen in the aforementioned film. Overall, I still think it's a well made gothic fantasy-horror movie, with enough spooky atmosphere to be enjoyable.


Director: Troy Nixey
Writers: Guillermo del Toro, Matthew Robbins
Country & year: US, 2010
Actors: Katie Holmes, Guy Pearce, Bailee Madison, Bruce Gleeson, Eddie Ritchard, Garry McDonald, Carolyn Shakespeare-Allen, Jack Thompson, Julia Blake, David Tocci, Lance Drisdale
IMDb: www.imdb.com/title/tt1270761/