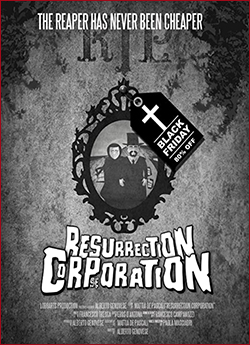 Dottor Caligari is an undertaker who finds himself in an existential crisis since no burials are taking place in the city anymore. Why? Because "Resurrection Corporation", a company run by a man named Potriantow, has found a way to bring the dead back to life. Caligari and his companion Bruta, a loyal young woman whose heart is a clockwork-mechanism which Caligari himself has inserted into her, decide to find out more about Potriantow and his death-defying business who has turned Caligari's life and ambitions upside down. They visit the castle of Potriantow's supposed mentor, but soon find themselves facing unexpected dangers.
Resurrection Corporation is an indie black and white animated movie from Italy, which pays an inspiring homage to films like The Cabinet of Doctor Caligari, Nosferatu, Der Golem and Vampyr. The movie was completed in 2020, which fits perfectly with the 100th anniversary of The Cabinet of Dr. Caligari. It mixes Gothic expressionism with comedy, and oh boy, does it get crazy at times! The director, Alberto Genovese, is also behind a Troma-distributed film called Sick Sock Monsters From Outer Space, which from the trailer looks so mind-blowingly hilarious that we decided we just have to check it out sometime.
The animation is reminiscent of the South Park-style, which probably sounds a bit weird considering this is actually a pretty dark and atmospheric movie despite the comedic parts in it… but together with the more detailed and surreal backgrounds it actually fits pretty well. The voice acting is overall engaging and solid (we watched the Italian version). The protagonist, Dottor Caligari, is pretty much a very self-centered man who, to be honest, comes off as a bit of an asshole… in contrast to his companion Bruta, who comes off as the most sympathetic character in the whole movie. This does make for some interesting character interactions, and the viewing experience was anything but predictable.
Overall, Resurrection Corporation is a fun and unique ride, with amusing characters, a crazy plot, and a music score that together with the atmospheric graphics manages to set the tone in all the scenes. It is an inspired indie animated feature that pays homage to several black and white classics, while adding its own bizarre comedic elements.
Resurrection Corporation is currently available on streaming on Amazon (US and UK).


Director: Alberto Genovese
Country & year: Italy, 2021
Voice actors: Antonio Amoruso, Alessandro Bianchi, Eliana Farinon Lazzarino, Erik Martini, Paola Masciadri, Marco Soldá
IMDb: www.imdb.com/title/tt9890120/