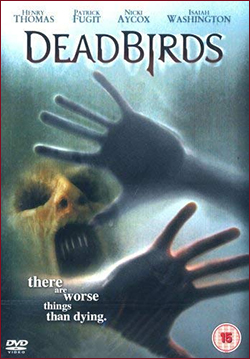 A group of confederate deserters during the American Civil War robs a bank for gold, an event that doesn't go as smoothly as they planned. Trying to find a place to rest for the night, they come upon an old abandoned mansion located by a corn field. Entering the field they see a strange-looking scarecrow which they believe to be the corpse of a real person…and as if that wasn't enough to realize this place is no good and should be avoided at all cost, they also come upon a hideous-looking deformed creature, which they shoot upon sight. But oh well, they still have to spend the night somewhere, so they enter the old mansion anyway, and soon find out that awful things have happened here which will also impact everyone who sets foot at the place.
Dead Birds is a Western horror film from 2004, directed by Alex Turner. The first part of the movie builds up pretty well, with tension and an admirable creepy atmosphere. This is also helped by a good cast: Henry Thomas (ET), Patrick Fugit (Almost Famous), Michael Shannon (Man of Steel), Mark Boone Junior (Memento), Isaiah Washington (Ghost Ship) and Nicki Aycox (Jeepers Creepers). The first half of the movie is very much an ongoing build-up of expectation and dread as we know things are wrong and that stuff will happen, and when they do there are some effective scenes and even a little bit of gore once we see the demonic creatures and the dead bodies.
Later on, it does unfortunately start to drag a bit, and there are more hints and suggestions as to what has happened and is happening, rather than any proper explanation, which makes the story feel a bit tangled. Which is a shame, as the setting, visuals and atmosphere are spot on. Just a little bit more clear focus on the background story and maybe more perceivable explanations for what is happening could have increased the tension for the last half of the movie as well. The mystery behind the mansion and its grounds involves a story of black magic, demonic possession, human sacrifice and the occult, which should have been offered more details and scenes than it eventually did. And maybe some more gore…since when these scenes do occur, they actually look pretty good.
Now, regarding the title: I couldn't spot more than one dead bird, though…so I wondered what that title is supposed to mean. Upon doing some research, I found that "Dead Birds" has a meaning that in the Dani language refers to weapons and ornaments recovered in battle, and a more poetic meaning that people, because they are like birds, must die. Dead birds are also considered to be symbolic of discontentment, grief, failure and hopelessness, and seeing a dead bird is some kind of bad omen. So there's many ways to perceive the title, which makes more sense once you put it in context with the plot of the movie.
While by no means any masterpiece, and perhaps a little dated now (especially the CGI effects), this low-budget horror film has still got some creepy scenes and good atmosphere.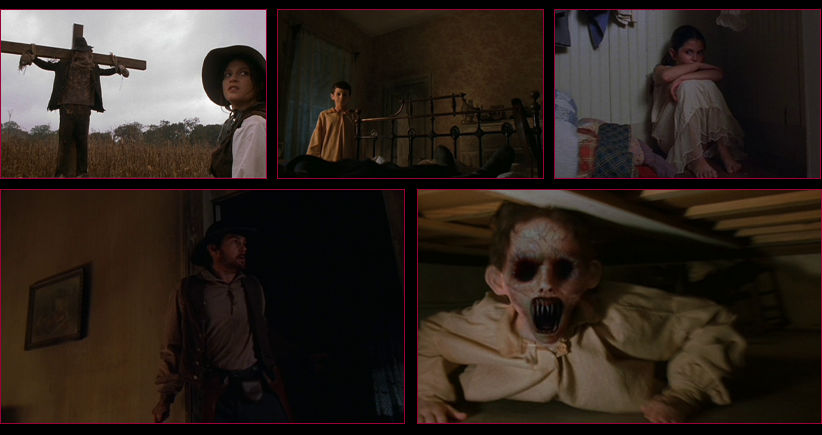 Director: Alex Turner
Writer: Simon Barrett
Country & year: USA, 2004
Actors: Henry Thomas, Patrick Fugit, Nicki Aycox, Michael Shannon, Muse Watson, Mark Boone Junior, Isaiah Washington, Harris Mann, Melanie Abramoff, Donna Biscoe, Brian Bremer, Russell Durham Comegys
IMDb: www.imdb.com/title/tt0377749/