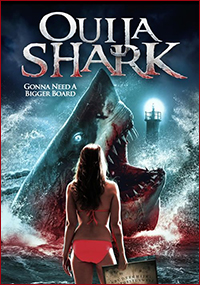 So, it's time to check out one of the newest, fresh releases of shitty shark films that have been spewed out like a never-ending diarrhea during the last two decades. This joke of a film is "directed" by Brett Kelly (who goes under the pseudonym Scott Patrick), who's made a laundry list of no-budget films since 2001, such as Jurassic Shark, Raiders of the Lost Shark, Attack of the Giant Leeches, Avenging Force: The Scarab, Kingdom of the Vampire, Agent Beetle, and so on. Ouija Shark has no relation to Ghost Shark or Shark Exorcist, for those who would even give a shit.
The "plot" can be summed up in one short sentence: A young woman comes across a Ouija board at the local beach, which her and her friends are using to summon a… man-eating ghost shark.
Do I really need to say more? I mean, seriously, just take a look at the damn trailer, that speaks for itself. It's exactly what you think it is. To even call this a "film" is one of the biggest understatements of the year, having a running time of about one hour and ten minutes, with zero budget, talent or script. It looks more like a compilation of gag reels stitched randomly together. Pure cringe from start to finish.
The shark itself is pretty funny, though, which is just a layer that wobbles around on the screen, while the actors really struggle to seem at least a little bit terrified as they are being chased in the woods in broad daylight. The shark also roars like a lion, which is actually a thing that goes way back to Shark Attack 2 from 2000. I also like the sound effect when the shark is supposed to eat its victims, which sounds like someone taking two bites of an apple in a videogame to increase the health bar. And you can forget about any blood and gore, the victims just disappear into thin air. The lack of effort is quite astonishing, this is a whole another level of not even trying.
One of the cheesiest moments of the film include some scenes featuring a non-convincing fortune teller with a flashing plastic ball, probably bought on the Halloween section at Walmart for under one dollar, while the rest of the budget must have been spent on the fake poster which doesn't represent the movie in any single way. However, if you know exactly what kind of film this is before pressing the play button, you may at least be in for some good laughs! Because, with the right mindset, low-budget indie horror like this can be an entertaining way to waste a bit of your time.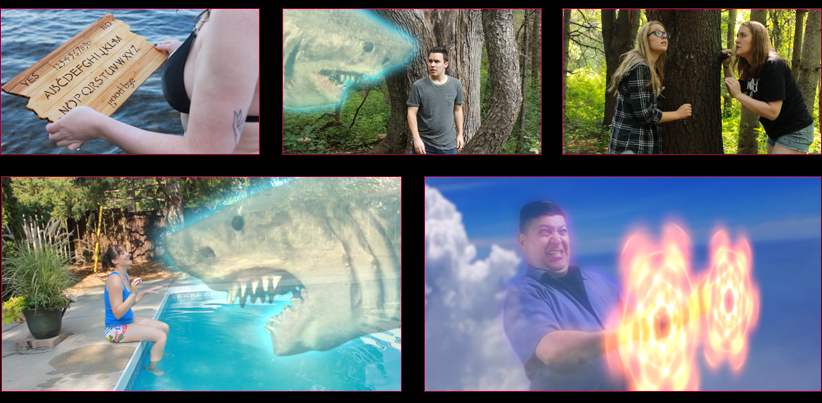 Director: Brett Kelly
Country & year: Canada, 2020
Actors: Leslie Cserepy, Leslie Cserepy, Kylie Gough, Robin Hodge, Staci Marie Lattery, Kyle Martellacci, John Migliore
IMDb: www.imdb.com/title/tt11650674/