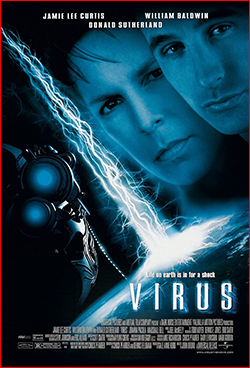 A Russian research vessel, Volkov, is out in the South Pacific and communicates with the orbiting space station Mir. Suddenly, some kind of energy source from space hits the space station, kills the cosmonauts and sends beams down to Volkov, causing an electrical surge that invades the ship's computer and causes chaos and destruction. A week later, the alcoholic captain Robert Everton (Donald Sutherland) is out with his crew on the tugboat Sea Star in terrible weather, and ends up losing the cargo. Which is uninsured, of course. Matters go from bad to worse when they discover that the engine room is taking in water, and they try to take refuge in the eye of the storm to make repairs. Then, Volkov appears on their radar, like an ominous ghost ship out of nowhere. Of course, the captain knows the ship and its possible worth, and he orders the crew aboard as the tempting thought of millions in salvage could turn this horrible day into a splendid one.
When they get on board they notice that most of the electronics have been destroyed, and the crew appears to be missing. There's something else lurking onboard, however…a robotic, spider-like creature appear and kills one of them, and they meet a terrified woman who later proves to be Nadia Vinogravoda, the Chief Science Officer on the ship, and she desperately tries to prevent them from turning on the ship's power. At first they refuse to listen to any of the gibberish nonsense she is telling them, but when a gun-wielding cyborg appears that is supposedly one of the missing crew members on Volkov, they realize that what Nadia tells them is true, and something out of this world has taken over the ship with the intention of killing what it thinks is a "virus" in this world. In other words: kill mankind.
Virus is a science fiction horror movie from 1999, directed by John Bruno and starring a fair share of well-known faces. Despite high competence in visual effects and some famous actors, the movie turned out to be a flop and failed to appease both critics and moviegoers, and with a budget of 75 million dollars the box office ended up with a measly 30.7 million dollars. Ouch. A bunch of merchandise was also created, including action figures, comics, and a survival horror video game called Virus: It is Aware by Cryo Interactive made for the Sony Playstation. Just like the movie, however, the reception was rather poor and caused the game to fall into obscurity. Flop after flop, in other words. Over time, however, the movie has gained a bit of a cult following. Despite the rough reception, it is in hindsight a decent enough sci-fi horror. Not a masterpiece by any means, and yeah, somewhat derivative and unoriginal, but there is a fair amount of action and old-school gore effects. Sometimes that's all you need for a fun time.
The movie was mostly filmed in Newport News, Virginia, on a ship anchored in the James River. The ship used as the Volkov was actually a retired Missile Range Instrumentation Ship (USNS General Hoyt S. Vandenberg, T-AGM-10), and one of the satellite dish antennas was intentionally damaged for the film's final scene. John Bruno, the director, is a visual effects artist and has worked on numerous animated movies and TV series, including Heavy Metal (1981), The Nine Lives of Fritz the Cat (1974) and the rather obscure Raggedy Ann & Andy: A Musical Adventure (1977). He's also done visual effects for movies like Poltergeist (1982), Ghostbusters (1984), and the NOS4A2 TV series, just to mention some. So yeah, the old school effects in Virus are solid as hell and even gorier than I remembered. Also, Donald Sutherland works well as a greedy, sadistic and slightly cheesy villain.
There's been a fair amount of older horror movies that were downright crapped on back when they were released, and are later getting a cult following and some delayed praise for being what they are (Deep Rising, for example, one of my favorite sea-monster movies, fits well into this category). As a techno-bodyhorror B-movie, despite not being great by any means, Virus still holds up well as a gory B-grade popcorn-flick.



Director: John Bruno
Writers: Chuck Pfarrer, Dennis Feldman
Country & year: USA, 1999
Actors: Jamie Lee Curtis, William Baldwin, Donald Sutherland, Joanna Pacula, Marshall Bell, Sherman Augustus, Cliff Curtis, Julio Oscar Mechoso, Yuri Chervotkin, Keith Flippen, Olga Rzhepetskaya-Retchin
IMDb: www.imdb.com/title/tt0120458/