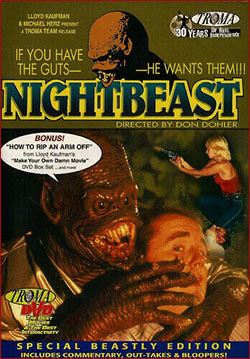 Welcome to Z movie hour. Today we take a look at a micro-budget and campy sci-fi schlockfest with an evil alien and his lazer gun, made by amateur filmmaker Don Dohler, starring his neighbours, brother-in-laws, himself, and his two sons.
Nightbeast opens with a small spaceship that gets hit my a meteor and crashlands spectacularly in the woodsland of Maryland. And there went the whole budget, I would guess. Out of the burning spaceship comes a hideous-looking alien (Nightbeast). He looks like a skinned gorilla and always has a sadistic, evil grin on his face, which clearly tells us that he's not here in peace.
Some of the locals get sheriff Cinder to show the crashlanding area, and he then says with a deadpanned face: "j e s u s ! Must have been lightning."  Nightbeast has no time to waste, and starts killing off some local hunters with his tiny lazergun that makes them disappear into thin air. He then kills uncle Dave and chases his two nephews (played by the two sons of director Dohler) through the woods where they hide in a car. Hah, as if that helped! Nightbeast zaps the car and it vanishes with the kids inside. There's no mercy with this alien. And besides of his beloved gun, he uses his hands to rip out the entrails of his victims, which gives us some decent gory moments.
After thirty minutes of almost non-stop cheesy guns-and-lazer-action scenes with some really hilariously bad effects, the movie gets to a halt with a pointless sideplot with some biker called Drago. He's just a scumbag who likes to hit women, and you can't wait for him to be killed off.
And we have a pool party, shot in the back of Don Dohler's house with his friends, family and a bunch of extras, neighbours I guess, who's probably not aware they're a part of a film. All seems to be invited, except for Nightbeast. What happened to him, you ask? He's still around and lurking, even in the daylight. And just before you know it, he pops up and encounters his next victim with a jump scare and… how can I describe this…well, he taps on the victim's arm which then falls off. I believe we're supposed to believe that he rips his arm off, but no, he just taps on it and Don Dohler tries his best to hide the poorly made effect in some quick, inept editing. It's Z movie schlock at its finest!
The two sheriffs Cinder and Lisa is determined to chase the alien, and the film of course shoe-horns a love interest between these two. And then we eventually get to the love scene in some motel room, and God almighty, this is the most cringey and awkward thing ever. As if they weren't amateur actors already who have zero ability to convey any emotions in front of camera, it starts the scene with Lisa half-naked after having taken a shower and says to Cinder: "I better get dressed now, huh?" Cinder then says with his deadpanned face: "No ….. You are a very attractive girl, Lisa …….. I guess I never really noticed it before."  Some romantic piano music plays and … next! The film at least ends with a fun and action-packed bang with some more spectacular cheesyness. And yes, don't you worry about our woman-hitting biker Drago, which you probably have forgotten about already, he will get his karma.
And of course, I have to mention that the synth soundtrack is composed by a 16 year old kid, named Jeffrey Abrams, later known as JJ Abrams. And this is his first screen credit. Nightbeast was originally released by Troma in 2004, which seems to be out of print. It's now available on a Blu-ray/DVD Combo from Vinegar Syndrome.



Director: Don Dohler
Country & year: USA, 1982
Actors: Tom Griffith, Jamie Zemarel, Karin Kardian, George Stover, Don Leifert, Anne Frith, Eleanor Herman, Richard Dyszel, Greg Dohler, Kim Pfeiffer
IMDb: www.imdb.com/title/tt0086013/