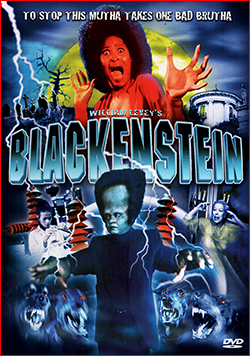 Ah HELL Nah, It's BLACKENSTEIN ya'll, starring … Lori Lightfoot? Bruh..!
The most intriguing aspect about this hopeless misfire of a motion picture is that the writer and producer, Frank R. Saletri, was a Criminal defense lawyer who woke up one day and decided he wanted to work in the movie business and become a monster movie mogul. Yeah, we all have to start somewhere – but: he had big hopes that Blackenstein would latch on the success of Blacula (1972) and already had the scripts for two sequels ready to shoot: The Fall of the House of Blackenstein and Blackenstein III. One of the sequels would have the alternative title The Black Frankenstein Meets the White Werewolf. Sounds fun, but that never happened as Blackenstein ended up like something Ed Wood would make during his drunken feverdreams after binge drinking all cocktail bars in Hollywood. And no, that's not the former mayor of Chicago we see on the cover, it's none other than the legendary Joe De Sue. Joe De who? He was a client of Saletri and a perfect definition of a non-actor. But both Frank R. Saletri and first-time director William A. Levey seemed optimistic.
Eddie Turner is a war vet who got his feet blown off after stepping on a mine in Vietnam. The more optimistic wife, Winifred, knocks on the door to Dr. Stein's villa and private hospital in Hollywood Hills to ask for him to fix Eddie. And just for clearance, Dr. Stein is a white dude, so don't get further confused by the full title Blackenstein The Black Frankenstein. After Eddie get transported to Dr. Stein's lab, the shady assistant Malcomb falls in love with Winifred, and in jealousy tries to make sure that Eddie dies by messing with Dr. Stein's lab equipment. Well, that doesn't go as planned as Eddie wakes up, looking like a cheap cosplay version of a familiar monster.
Blackenstein wakes up in some random dungeon we've never seen before and shuffles his way through the lab as he makes some weird snoring sound where the term "sleepwalk through" gets its fullest meaning. We see him walking through some empty hospital corridor in the slowest pace possible to drag out some extra screentime, until he approaches a patient we see gets killed by the monster behind the bed curtain in silhouette. And the effects are probably more lousy than you'd expect.
There's absolutely nothing that works in this turkey, other than Blackenstein being a perfect study in inept filmmaking while having some cheap laughs. Sunny days suddenly transform to thunderclapping nights and actors who perform the stiffest and driest dialogues in the style of a Hanna-Barbera cartoon. No colorful and offensive ghetto talk here, unfortunately. The editing is a trip in itself which makes Blackenstein teleport himself back and forth to his dungeon cell between his murder sprees, completely unnoticed. And why would he go back to his cell? I guess the script just said so.
We also have a brief shot of some bare breasts and a complete random scene in a bar with some comedian.
Blackenstein didn't hit the pulse on the blaxploitation market and writer Saletri wouldn't work on a film again, nor his client Joe De Sue got any phonecalls from Tinseltown. Saletri still wrote several scripts which included two Sherlock Holmes films titled Sherlock Holmes in the Adventures of the Werewolf of the Baskervilles and Sherlock Holmes in the Adventures of the Golden Vampire where he had Alice Cooper in mind to star as Dracula. Sounds completely batshit and epic. And speaking of Sherlock, Saletri was later a victim of an unsolved murder mystery when he was found dead in his mansion (formerly owned by Bela Lugosi) in 1982. The police described it as "gangland style". So maybe it's fair to ask what some of his former clients have been up to lately. Let's start with the guy he failed to make a movie star of, Joe Dee… what's his name again?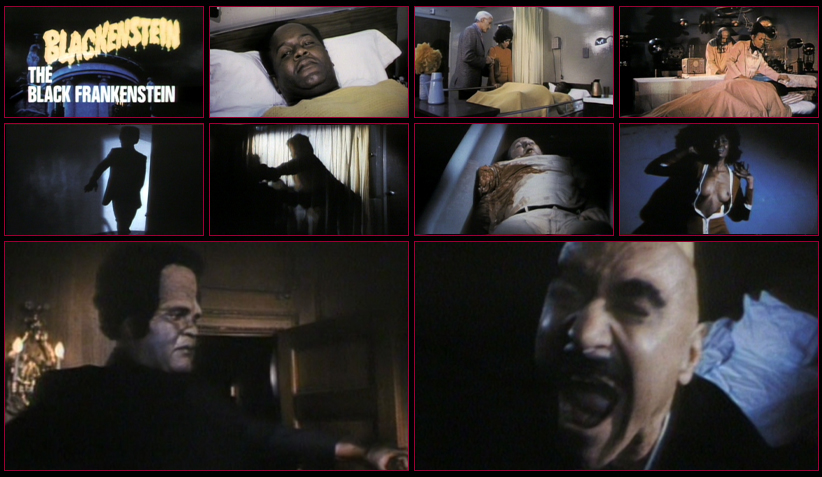 Director: William A. Levey
Writer: Frank R. Saletri
Original title: Blackenstein The Black Frankenstein
Country & year: USA, 1973
Actors: John Hart, Ivory Stone, Joe De Sue, Roosevelt Jackson, Andrea King, Nick Bolin
IMDb: www.imdb.com/title/tt0069795/