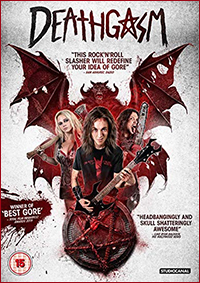 Brodie is a heavy metal-outcast whose meth-head mom is sent to a mental ward after trying to give a mall-santa a blowjob, and thus he needs to live with his uncle, aunt and cousin. They are "some good Christians", by the way, who thinks Ricky Martin is the heaviest thing they've ever heard. Not much in common between him and them, in other words. His cousin is a complete sport-idiot-psychopathic douche who calls Brodie a "devil worshipper" and bullies him at school, but at least he's got two friends at school who thinks playing board games at lunchtime is the most badass thing to do.
Also, there's one really cool thing about this new place: Alien Records, which is a record shop that specializes in 80's metal on vinyls and cassettes. Here he meets the like-minded Zakk, who plays bass guitar, and they start a black metal band with the catchy title Deathgasm. When they come across some obscure note-sheets from their black metal-idol Rikki Daggers, "Black Mass", they make it into a Deathgasm song, and unintentionally conjure the demon Aeloth who then possesses the towns residents to be devil worshippers. With the help of heavy metal, chainsaws and sex toys, it's now up to Brodie and his friends to prevent a full-blown hellraising metalapocalypse.
Written and directed by Jason Lei Howden, a young newbie from New Zealand, who won a contest and a price of NZ$200,000 to make his first feature film. Howden took inspiration from his own experience as a metal-outcast in the mid-90's, combined with a lot of splatter-fun and blood puking. When Howden isn't behind the camera, he works at Weta Digital, Peter Jackson's CGI company. Impressive.
Horror and metal goes hand in hand, and "Deathgasm" shows it to the fullest, with a plot that reminds us of "Trick or Treat" (1986) and some elements of Rob Zombie's "Lords of Salem" (2012). The Evil Dead-ish demons look pretty cool, and the humour is a mix of "Bad Taste" and "Braindead" (or "Dead Alive" as it's called in the states). There's also some funny references to the Norwegian black metal-fans. The zero-budget music video our friends in Deathgasm makes in the woods, Immortal-style, is spot on. Otherwise, there's a lot of crazy zombie action going on with dildos, vibrators, chainsaws and whatnot to keep you entertained. The perfect recipe for a party movie, in other words. And I have to mention the chopper-scene reference from Dawn of the Dead, which was awesome.
With a title like Deathgasm and its satanic imagery, it's not completely without some controversy. The title was a little too much for Walmart, who refused to sell it. Pretty ironic since Walmart can be a horror-shitshow in itself (search "people of Walmart" on YouTube to get a great lol). They agreed to sell it when the title was changed to "Heavy Metal Apocalypse".

Director: Jason Lei Howden
Country & year: New Zealand | USA, 2015
Actors: Milo Cawthorne, James Blake, Kimberley Crossman, Sam Berkley, Daniel Cresswell, Delaney Tabron, Stephen Ure, Colin Moy, Jodie Rimmer, Nick Hoskins-Smith, Erroll Shand, Kate Elliott
IMDb: www.imdb.com/title/tt3705412/