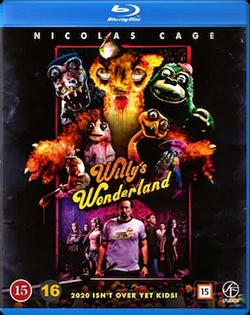 A quiet drifter finds himself in a situation where he's stranded in an isolated little town. His car is in need of repairs, but he's not able to pay for it…however, he gets an opportunity to pay for the expenses by spending a night in an abandoned family fun center called Willy's Wonderland, by cleaning it from top to bottom and thus preparing it for its supposed re-opening. While locked inside the place, however, he finds himself in battle with a bunch of possessed animatronic mascots whose obvious intent is to rip him apart.
Willy's Wonderland starring Nicolas Cage as the quiet/mute janitor, is a ridiculous yet entertaining horror movie, with a premise that probably rings some bells if you've ever heard about the game series Five Nights at Freddy's (FNaF). While I haven't personally played any of the games, it's also about killer animatronics (although they only come alive at night) and a security guard that needs to survive the nights. Other than that there appear to be several differences, but since I haven't played any of the games I can't really delve too much into any of that.
Now, the plot itself is kind of ridiculous, but it actually works pretty well for a movie like this. Willy's Wonderland, before its abandonment, was a typical Chuck E. Cheese type of restaurant aimed for children, with animatronics who would happily sing songs like Head, Shoulder Knees and Toes, and everything seemed to be all fun and pleasantries. Except that the place was run by a child killer, and the employees had the same urges as he did. When the police got on to what they'd been secretly doing at the place, that's when all hell would break lose.
As for performances, Nic Cage is, well… Nic Cage, he pretty much plays himself and there's nothing wrong with that. He doesn't deliver a single line during the entire movie, and his lack of surprise towards the murderous animatronics (despite going in full Cage-Rage mode and smashing them to bits and pieces), somehow implies that he knows fully well what's going on at the place, and can make you speculate whether he might be a a sibling to one of the children that were killed at the place in its hay-days, or something like that, and has seen it as his mission to take on the child killers once and for all. We don't know anything about his character (not even his name), which makes you wonder if a sequel (or prequel) has ever been in the plans. The other characters provide decent performances as well, but everything is pretty much carried on Nic's back. Now, as for the animatronics…they actually look pretty good, and were played by stunt people in costumes (with the exception of Ozzie the Ostrich, which was a puppet).
With some fun practical effects and a silly yet entertaining plot, Willy's Wonderland is a campy cheese-fest filled with whimsy and blood spatter, and definitely not for people who want their entertainment to have a more serious tone, but pleasant enough for those of us who every now and then like to watch a movie that doesn't take itself too seriously. It's fun and cheesy, and sometimes, that's enough.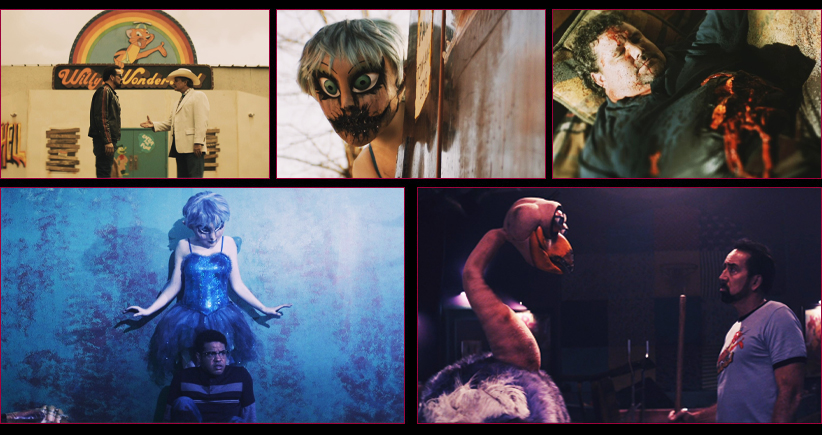 Director: Kevin Lewis
Country & year: USA, 2021
Actors: Nicolas Cage, Emily Tosta, Beth Grant, Ric Reitz, Chris Warner, Kai Kadlec, Caylee Cowan, Jonathan Mercedes, Terayle Hill, Christian Delgrosso, David Sheftell, Jiri Stanek, Jessica Graves Davis, Taylor Towery, Chris Schmidt Jr., Christopher Bradley, Duke Jackson, Billy Bussey, BJ Guyer
IMDb: www.imdb.com/title/tt8114980/