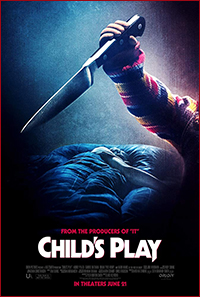 Kaslan Products have invented a brand new toy: Buddi, the interactive doll that is the most high-tech product available that can also connect to all other Kaslan products and smart home devices. These dolls are produced at a factory in Vietnam, under terrible working conditions. The movie starts off showing us one of the depressed workers getting harassed and fired, and before finishing his final Buddi doll, he removes all safety precautions before he commits suicide by throwing himself off the roof of the factory. Of course, no one knows that the latest doll he worked on was been tempered with, and it is shipped off together with all the others…
Soon afterwards, we meet Andy and his mother, Karen, who have just moved to a new place and is trying to settle in. Karen is working at the local hypermarket, that is also selling Buddi dolls on a regular basis. When one of the customers returns a Buddi doll due to it being defected, she decides to bring this doll back home to give it to her son. Despite not working the way it's supposed to, both Andy and Karen believes it's just a harmless defect. When Andy can make it swear and do funny things that would not be possible with any of the "normal" Buddi dolls, he's also able to befriend some of the neighboring kids. All seem fine to Andy for a while…but with this doll having all safety protocols disabled, it's soon showing signs of a behavior that can turn out to be quite dangerous.
"Child's Play" is a remake of the 1988 classic by the same name, and is directed by Lars Klevberg. This movie is quite different from the original story, however. In the original film, the soul of a serial killer (Charles Lee "Chucky" Ray) entered one of the dolls after being chased and killed inside a toy shop. In this remake, we get a modernized version where Chucky is simply an AI doll that's been tampered with, and developing a behavior that is not really his fault. In many ways, you can even sympathize a bit with Chucky in certain scenes, like when Andy and his friends are watching a horror movie ("Texas Chainsaw Massacre 2", which was in fact totally banned here in Norway back in the day…something I suppose director Lars Klevberg knew since he's Norwegian as well). When the kids start laughing and enjoying themselves, Chucky believes that the killings are "fun", and he goes to the kitchen and brings back a knife as he believes it will make them laugh. And the doll shows signs of distress and confusion when it realizes that this did not make Andy and his friends happy at all. Thus, Chucky is a completely different "villain" than in the original…and while the original is a horror classic from the 80's, it's refreshing to see a remake that does something completely different. When Chucky goes crazy and starts killing, it's all based on a wish to keep Andy safe and happy. And to be his "best buddy"…
The doll is voiced by Mark Hamill, in which we get a little "Star Wars" reference when Andy tries to make the doll name itself "Han Solo", but due to the defect it thinks he said "Chucky" (which, of course, references the original "Child's Play"). The movie also brings us some pretty neat killing scenes, and a fair amount of blood and gore. It's entertaining and fresh, just don't expect the same story as the one from 1988 as this is a totally reimagined version.

Director: Lars Klevberg
Country & year: USA, 2019
Actors: Aubrey Plaza, Mark Hamill, Brian Tyree Henry, Tim Matheson, Gabriel Bateman, David Lewis, Trent Redekop, Beatrice Kitsos, Ty Consiglio, Carlease Burke, Hannah Drew, Kristin York, Zahra Anderson, Marlon Kazadi, Nicole Anthony
IMDb: www.imdb.com/title/tt8663516/