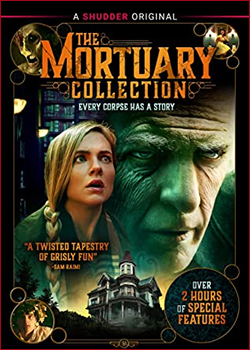 In Raven's End, Mortician Montgomery Dark manages an isolated and creepy mortuary all alone. After a recent funeral, that of a young boy, Montgomery gets an unexpected visitor. A young woman named Sam has noticed his "Help Wanted" sign outside of the mortuary, and practically demands an interview right away. He decides to give her a tour of the old, creepy place, and Sam shows an interest in the small coffin that belongs to the boy which Montgomery has just performed the funeral for. He starts telling Sam stories about some of the residents of the town, and the weird and unexpected ways they died.
Mortuary Collection is like a "Goosebumps" styled movie, just for a more adult audience. While we have horror movies aimed at a younger audience like Scary Stories to Tell in the Dark, this one increases the blood 'n gore with a few notches. At first glance, it feels a bit more on the "spooky" side rather than something that will provide any actual scares…which for the most part is pretty accurate. It does deliver some rather nasty scenes and imaginative twists and turns throughout its tales, however, which makes it a darn nice Halloween movie with gorgeous visuals, some decent bloody/gory scenes and a lot of fun!
The movie contains four stories: one set in the 1950's, where a woman is using the restroom while going through the wallets she's been pickpocketing during the ongoing party outside. But while inside the restroom, the medicine cabinet starts acting weird. The second story, Unprotected, is set in the 1960s and it's considerably longer than the first story, and brings us a pretty twisted take on the horrors of not using a condom. This one was pretty fun and inventive, although it felt a little bit dragged out during its first moments. The third story, Till Death, is about a man who takes care of his catatonic wife, and when the doctor gives him a well-meant advice to let her "accidentally" overdose on painkillers, he must make a very difficult choice. This is by far my favorite episode, which is both sad and actually a bit horrifying in its thematics. Then there is the fourth story, The Babysitter Murders, which is actually Sam's story (fun facts: the director actually made a horror short by this name in 2015. Also, although not related to this movie: The Babysitter Murders was actually the original title of the horror movie Halloween, until Yablans suggested setting the movie on Halloween night and thus naming it Halloween instead, to which Carpenter agreed).
The stories themselves are overall pretty entertaining and spookily fanciful, but the haunting visuals are what really puts the cherry on top. The Victorian-era styled mortuary (where its exterior is actually the Flavel House Museum in Astoria, Oregon) with its Victorian-styled interior and decorations, and Mr. Montgomery Dark himself which looks like a typical horror show host, just gives everything the perfect Halloween vibe. It's a little bit cheesy here and there, but it fits with the subject matters portrayed in the stories and the tone set throughout.
Mortuary Collection is a pretty good Halloween movie: whimsical, bloody, and with enough gorgeous visuals to feed your eyes with tasty treats.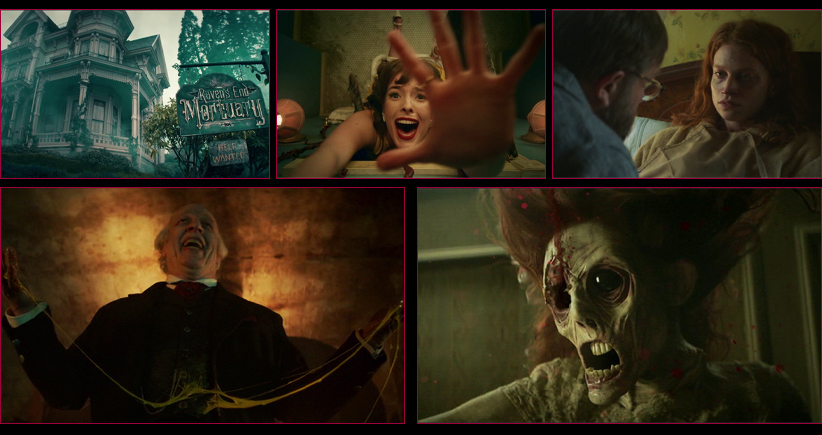 Director: Ryan Spindell
Country & year: USA, 2019
Actors: Tristan Byon, Eden Campbell, Hannah R. Loyd, Clancy Brown, Caitlin Custer, Christine Kilmer, Mike C. Nelson, Jacob Elordi, Brennan Murray, Michael Bow, Ema Horvath, Ethan Clossin, Anthony Farrington Jr., Darryl Love, Clavacia Love, James Bachman, Jennifer Irwin, Sarah Hay, Barak Hardley, Darrell Salk, Phyllis Applegate, David Fierro, Fernanda Romero
IMDb: www.imdb.com/title/tt7781432/