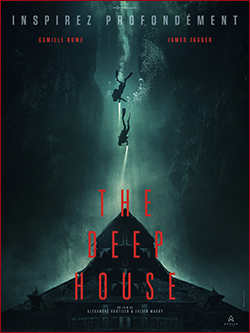 Ben and Tina are a young couple from New York, who have a YouTube channel where they are traveling to supposedly haunted houses in Europe while recording their experiences. These urban explorers decides to travel to south-west France in order to seek out a sanatorium that is submerged in an artificial lake, in hopes of getting more likes, views and followers…but upon their arrival to the place they find it crowded with people as it proves to be a popular vacation spot. Not sure exactly what to do next, they meet a local called Pierre, who offers to take them to another place of the lake where he claims that a mansion is located under the water, perfectly preserved and ready to be explored.
And so they head along with Pierre, who leads them to the place (which is a fair bit of both driving and walking). Putting in their diving gear and submerging into the lake, they first find some stairs which soon leads to the eerie house. Entering the place through a window on the upper floor, they are both baffled at how well preserved everything seems to be…and they soon find that their presence inside the house awakens something else there.
When the French horror duo Alexandre Bustillo and Julien Maury have teamed up for another horror movie, we're ready to watch. While their Leatherface movie from 2017 wasn't much to write home about, they have released earlier gems like Inside, Livid and Among the Living. And a haunted house underwater? Well, that did indeed sound interesting enough to check out!
While this movie did sound suspiciously similar to Josh Malerman's novel A House at the bottom of a Lake, they are quite different despite sharing a similar premise. While Malerman's novel was initially more a story about the characters themselves, The Deep House is a full-fledged haunted house story. And it does feel exciting and atmospheric during the first half, when they first enter the underwater building and start exploring. Filming underwater can be quite tricky indeed, but the movie has some excellent underwater shots that are really good. Technically and visually the movie shines, there's no doubt about that.
When the supernatural stuff starts happening, it does unfortunately go downhill and it feels like the story pretty much runs out of oxygen (pun intended). While there are some creepy scenes and nice ideas, especially with what they find in the basement, things are getting a bit too jumbled from thereon and everything turns into a cat 'n mouse game with what is, ultimately, some not-so scary ghosts. We do, at least, get some explanation for the house's past and the people who lived there, but it's a little too vague to make any proper impact, and I wish we could have gotten a bit more flesh on the background story of the house and its inhabitants.
Overall, The Deep House starts off very promising but falls a little flat once the supernatural events take place, not really being able to keep a tight grip on the preliminary dread one could feel during the first moments of the film. It's still okay to watch and a little bit different, but not on par with some of the French duo's earlier achievements.



Directors: Alexandre Bustillo, Julien Maury
Country & year: France, Belgium, 2021
Actors: Camille Rowe, James Jagger, Eric Savin, Alexis Servaes, Anne Claessens, Carolina Massey, Marie Caffier, Marie Bernard
IMDb: www.imdb.com/title/tt11686490/