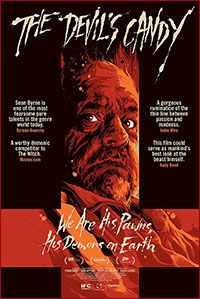 «The Devil's Candy» is an indie horror movie written and directed by Sean Byrne. I found out about this movie while watching some horror trailers on Youtube, and thought "an indie horror film that actually seem to have a high visual standard, and doesn't look like it's made out of 90% close-up shots? Let's see what this is about".
The movie starts with a scene at night, in a countryside house. We meet Raymond Smilie who sits in his room playing his red Flying V loudly to keep out the voices from "Him" in his head. When his mother unplugs his guitar, it gets fatal consequences. We then see that sometime afterwards, this countryside house is sold to Jesse Hellman, a struggling painter. He moves there together with his wife, Astrid, and daughter, Zooey. Soon, Jesse starts hearing voices inside the house as well. Inspired by them, he starts painting as never before, but he soon finds out that this muse is not a positive one.
The movie is well made technically, and I think it's got a strong first half, but even though the atmosphere was there I kind of felt that it never built up to its potential, and in the end I think there were a few things that felt unresolved. Maybe I expected something different than what it was (I guess I expected more on the supernatural front). Still one of the better indie horror films that have come out lately.
And the movie also have a heavy metal soundtrack that serves well as ear candy!

Director: Sean Byrne
Country & year: USA, 2015
Actors: Ethan Embry, Shiri Appleby, Pruitt Taylor Vince, Kiara Glasco, ony Amendola, Leland Orser, Craig Nigh, Jeremy West
IMDb: www.imdb.com/title/tt4935372/